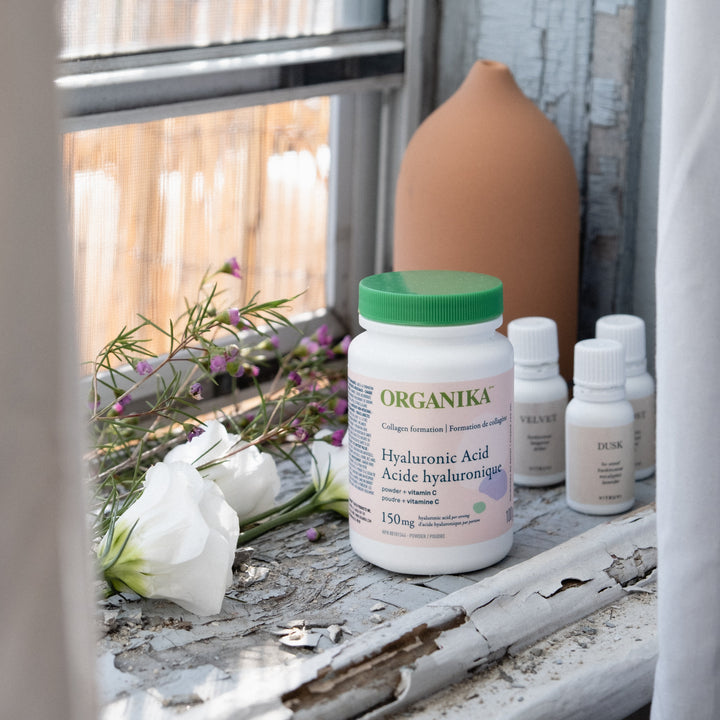 As we age, our skin wrinkles, thins out, and may lack that 'youthful lift'. Our joints become stiff and wear and tear can occur with any activity. Although aging is inevitable, thanks to research we continue to find more ways to add 'grace' to the aging process. Nowadays, fillers and Botox are a pricey, and sometimes a risky route many individuals will take to sustain youthful looking skin. Creams, lotions and serums can be priced in the thousands, with promises to reverse aging. It can all add up and become not only incredibly expensive, but in some cases not as effective as promised.
What if I were to tell you that beyond a balanced daily diet and lifestyle, certain supplements can have a HUGE impact on the way your skin ages and your joints feel? Collagen is an important component of our skin and other tissues, and it needs a few key ingredients to stay strong, plump and glorious. Hyaluronic acid is one of those key ingredients!
Hyaluronic Acid
Hyaluronic acid (HA), is a naturally occurring substance in your body. HA attracts and holds onto water molecules, and in turn, acts as a natural lubricant for the joints and an internal moisturiser for the skin.1 More than half of our natural HA is found in skin tissues,2 and the rest is abundant in our joints, blood vessels, eyes and more.1 As we age, our natural stores of HA decrease, and this is seen in features of our skin such as wrinkles, which become more noticeable due to the loss of moisture.1
Supplementing with Hyaluronic Acid
Taking a HA supplement daily is a targeted way to help with the health of your skin while aging, as well as keeping our joints in tip top shape! HA, alongside collagen supplementation, is a dynamic duo that will promote growth and stability in your tissues. The collagen in your skin needs to be well hydrated to maintain good flexibility, which allows it to avoid being easily broken down. Supplementing with HA is a good daily practice as it degrades quickly in our body3, so replacing it is key.
Summing it up
Adding HA alongside a collagen supplement is a great way to boost the overall health of your skin and joints. Eating a diet rich in nutrients, and low in processed foods/sugar, will only compliment this process further. Just like any other supplement regime, it is always a great idea to talk to your healthcare provider before making any major changes.
Be happy, be healthy and age gracefully!
Amy Wilson
References
Papakonstantinou E, Roth M, Karakiulakis G. Hyaluronic acid: A key molecule in skin aging. Dermato-endocrinology. 2012 Jul 1;4(3):253-8.
Reed RK, Lilja K, Laurent TC. Hyaluronan in the rat with special reference to the skin. Acta Physiologica Scandinavica. 1988 Nov;134(3):405-11.
Fraser JR, Laurent TC, Engström‐Laurent A, Laurent UG. Elimination of hyaluronic acid from the blood stream in the human. Clinical and experimental pharmacology and physiology. 1984 Feb;11(1):17-25.