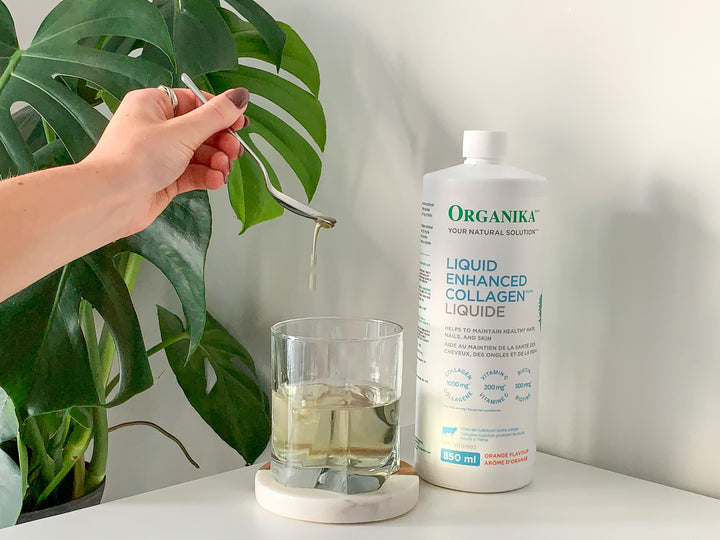 everything collagen
A New Way to Take Enhanced Collagen: Liquid Enhanced Collagen
Organika Health
A New Way to Take Enhanced Collagen
™
Fans of Canada's #1 collagen powder*, we have a treat for you. Your favourite collagen is now available in liquid form.
With 1000 mg of 100% pure hydrolyzed collagen, 200 mg of Vitamin C to further boost collagen production and 500 mcg of Biotin for skin, hair and nail health, orange-flavoured Liquid Enhanced Collagen™ is the ultimate beauty cocktail.
Let's take a closer look at the ingredients in this skin-enhancing formulation:
Hydrolyzed Bovine Collagen
Made with Canada's #1 collagen powder, our premium bovine collagen is a source of type 1 and type 3 collagen. Type 1 collagen boosts your beauty from within, providing enhanced skin, hair and nail health. Type 3 collagen supports balanced gut health, which is connected to overall health in our body – including our skin.
Vitamin C
Vitamin C is required for the synthesis and maintenance of collagen and plays a vital role in collagen formation in the body. A powerful antioxidant, Vitamin C aids in protecting the skin from UV and free radical damage, which are key factors in premature aging.
Biotin 
Also known as vitamin H, biotin is one of the B complex vitamins that helps the body convert food into important energy and helps metabolize our carbohydrates, proteins and fats. It plays an important role in skin and hair maintenance, helping with skin and hair-related conditions such as alopecia and dermatitis.
How to Enjoy Liquid Enhanced Collagen
Take 1 teaspoon (5 ml) twice a day by spoon directly or mix with water or other favorite beverage.
Frequently Asked Questions
Which type of collagen are in Liquid Enhanced Collagen?
Both include Types 1 and 3
What are the benefits of this source of collagen?
Type 1: Supports hair, skin and nails. Helps improve skin elasticity and hydration, supports muscle recovery, bones.
Type 3: Supports gut health, skin elasticity and hydration, blood vessels and muscles
Which collagen format is best for me?
It really comes down to convenience and how you want consume it.
The powder is great for coffee, tea or other beverages hot or cold. It can also be added to cooking and baking. It is very versatile. But it needs to be added to something to consume it.
The liquid is very convenient. It has a natural sweet orange flavor and can be taken by the spoonful or in your favorite luke-warm or cold beverage. It can be great to have at your desk and take straight from the bottle. The liquid also has added Biotin to support hair skin and nails and Vitamin C which help support the skin. The liquid has a little extra beauty bonus to it!
Which one is more absorbable - liquid or powder collagen?
Both Liquid Enhanced Collagen and Enhanced Collagen Original are hydrolyzed meaning that the large proteins have already been broken down, saving our bodies a step and making the proteins easier to absorb. So, both the liquid and the powder are very absorbable on their own.