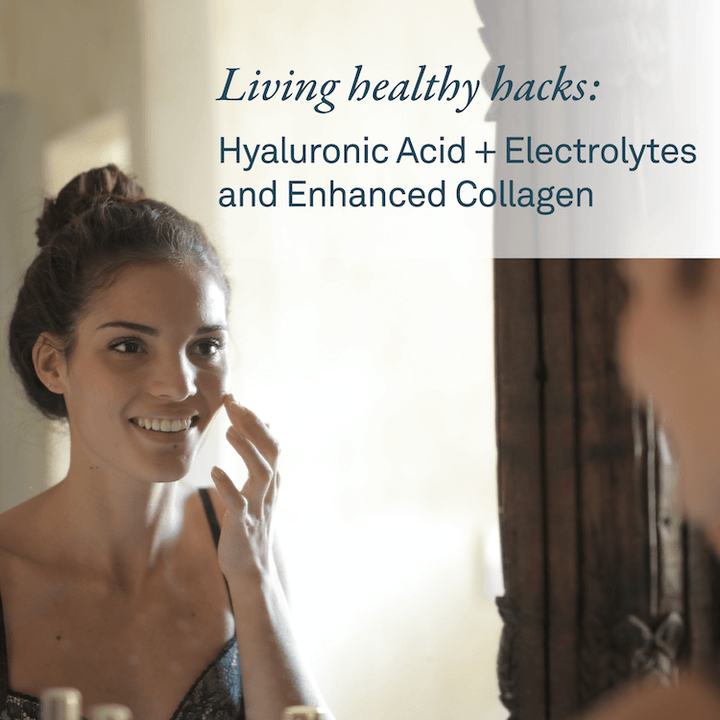 Health & Wellness
Living healthy hacks: Hyaluronic Acid + Electrolytes and Enhanced Collagen
Organika Health
We are sharing tried and tested supplement hacks with you! Find out how the Organika team loves living healthy.
Meet 'Denny' & his skin health hack
Meet Fransiscus Denny, Director of the Innovation Team at Organika Health.
After studying Biotechnology, Denny became enamoured with living healthy. He focuses special attention to longevity, staying active, and ensuring he knows what he is putting into his body for optimal health and wellness.
Denny is obsessed with clinical studies, biochemical pathways and how molecules work within our body.
Creating the products here at Organika, is a perfect role for this supplement genius. Not only is he behind some of the best health products to hit the Canadian market, he's sharing some of his "health hacks" with you!
Denny's hack:
Denny combines Hyaluronic Acid Powder with Electrolytes + Enhanced Collagen into his water daily. He wants to maximize anti-aging, skin health and joint health; he also loves this as a low-sugar option for a tasty afternoon drink.
Let's dive in...
What is hyaluronic acid?
Let's back up and discuss this amazing molecule.
Hyaluronic acid (HA) naturally occurs in the body, in our connective tissues, neural tissues (brain and nerves), epithelial tissues (our skin), and our cells. This molecule can retain up to 1000 times its weight in water. Considering that we are mainly made up of water, HA helps to attract and maintain water throughout the body. This is especially important for hydration and any function that needs water... such as glowing healthy skin plus a healthy body overall.
Electrolytes + Enhanced Collagen goes well with Hyaluronic Acid
Electrolytes enhance hydration (think important nutrients that you need to replenish when sweating, sick or dehydrated). Our Electrolytes + Enhanced Collagen (EEC) was created to offer people a replacement for pop or sugary sports drinks. The addition of collagen helps a catalyst reaction to help with building blocks for recovery. The collagen helps with connective tissues, while electrolytes help replenish lost nutrients during sweat and activities.
Coupling this with Hyaluronic Acid just makes sense.
HA and collagen complement and support each other – it's like a perfect marriage. We know now that HA supports all the tissues in the body, while collagen increases and complements all their functions.
Learn more! We asked Denny some key questions around his HA + EEC hack.
Why is consuming HA better than topical?
HA is a carbohydrate molecule that creates buoyancy in the plasma cell in various tissues (as we mentioned above). Our skin consists of layers with the oldest layer facing the outside (which will be shed first). Ingesting HA means we are providing the building blocks to all those tissues in our body from the inside out, so the inner layers are more buoyant.
HA is a polymer, well suited for ingestion. The particle itself is difficult to penetrate cell layers due to its size. Therefore, consuming HA is a great idea.
When should people consume HA and what is the main benefit?
HA is a macronutrient, and there are multiple health benefits. In addition to the skin health described already, your joint health is helped, allowing you to feel more young and agile. The main benefit is supporting cellular HA levels in our cells, to continually have healthier skin, joints and ligaments.
As such, routine consumption is more beneficial than ad-hoc consumption (taken occasionally).
Should people take both HA and EEC together?
Yes.
HA and Collagen are both present in connective tissue, but they work differently. Collagen is a helix protein structure that acts as a coil while HA is polysaccharide that feeds the plasma creating buoyancy. Combining these provides a more rounded benefit to your skin and joints.
If you are seeking longevity – this is a game-changer. It's also why we created Enhanced Collagen Pure Beauty (with the addition of more beauty ingredients), for those that want a non-flavoured and not-fizzy option.
What makes the HA and EEC at Organika stand apart?
We are using HA with specific molecular weight that is clinically studied. Our HA is also clinically studied to have better absorption than other types of HA, which means you get the most out of your supplementation.
Our Electrolytes + Enhanced Collagen uses our premium Hydrolyzed Bovine Collagen peptides, derived from grass-fed bovine. This means our collagen is highly bioavailable, easily digested and absorbed.
Do you have recommendations or recipes for taking both together?
Mix both powder mixes before adding water. Add water, let them fizz and enjoy!
"Side effects include enhanced confidence! Watch out!"
Fransiscus Denny, Director of Innovation Team, Organika Health