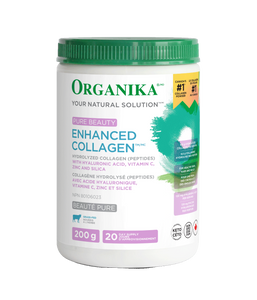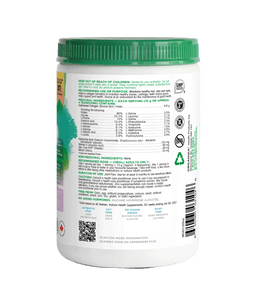 Gluten-free
Non-GMO
Caffeine-free
No perservatives
No artificial colours or flavours
No artificial sweeteners
Keto-friendly
Dairy-free
Egg-free
Soy-free
From grass-fed pasture raised cattle
Enhance Your Routine
9.6 g of Hydrolyzed Collagen per serving enhances hair, skin and nail health
120mg of Hyaluronic Acid acts as an internal moisturizer for skin tissues
60mg of Vitamin C promotes further collagen formation and in protecting the skin from UV and free radical damage
46mg of Zinc plays a role in collagen production, the inflammatory response, and wound healing
20mg of Silica strengthens hair, prevents hair loss, and supports health of skin and nails
Just add to water or favourite beverage
Our new Enhanced Collagen™ Pure Beauty combines collagen with skin loving ingredients to help maximize the beauty benefits of collagen.

Grass-fed hydrolyzed bovine collagen: Enhance the health of hair, skin, and nails with Canada's #1 Collagen Powder*. Sourced solely from pasture raised, antibiotic and hormone free cattle, our Enhanced Collagen Pure Beauty, is made with the same 100% pure hydrolyzed collagen as our Enhanced Collagen - Canada's #1 choice! It not only enhances the health of hair, skin and nails, but also provides gut support - a major influencer of skin health.

Hyaluronic Acid: Studies have shown that Hylauronic Acid can increase the skin's moisture content due to it's ability to retain water molecules, resulting in a dramatic improvement in the skin's appearance, especially among those with dry and rough skin. Hylauronic Acid is also heavily involved in promoting skin collagen structure. The Hylauronic Acid used in Enhanced Collagen Pure Beauty has a low molecular weight allowing for a higher absorption rate meaning more moisture for your skin tissues!

Vitamin C: We know Vitamin C is vital for immunity support. But it doesn't only combat colds and flus; it also plays a role in our skin health and in collagen production. Vitamin C is a powerful antioxidant, protecting the skin from UV and free radical damage, both factors in premature aging and skin conditions.

Zinc: Zinc is needed for building keratin and for the formation of collagen. Collagen in the skin is produced by zinc-dependent enzymes called collagenases. Zinc is essential not only for the enzymes producing type 1 and type 3 dermal collagen but also for the cross-linking that gives collagen its durability and stability. It also has anti-inflammatory properties and is useful for inflammatory skin issues such as acne, rosacea, and eczema.

Silicon: Silicon, also known as silica, is important for the optimal synthesis of collagen and strengthens hair, prevents hair loss, and supports the health of skin and nails. Incorporating a silicon supplement can be especially helpful as this nutrient is not easily absorbed when taken through dietary sources.
Customer Reviews
75
reviewers would recommend this product
Write a Review
Ask a Question
07/19/2023
Denise K.

Canada
Excellent
Easily dissolved in liquid
05/08/2023
Janet C.

Canada
I recommend this product
Not My Favorite
I ordered the Organika Original and the Pure Beauty formula. I tried the Pure Beauty one first and there were 2 things I didn't care for. First, there was no measuring spoon enclosed so I had to estimate the amount to use. Second, I found the Pure Beauty formula made my coffee taste a bit off. I used it for about a week then decided to try the Original Collagen and there was no taste at all with my coffee. There was also a measuring spoon enclosed which was great. I have finished the Original formula and am now using the rest of the Pure Beauty one. The taste is still present in my coffee so I will not be buying it again. I also haven't been using it long enough to know if there's any benefit to using this formula over another one. Someone else may have a better experience than I did but I wouldn't recommend the Pure Beauty Collagen.
Hi there! Thank you for reaching out! Thank you for bringing your concerns to our attention regarding your recent purchase of Organika Original and Pure Beauty formula. We apologize for any inconvenience you experienced and appreciate your feedback. We understand that you had two specific issues with the Pure Beauty formula. Firstly, we regret that a measuring spoon was not included in the packaging. We will pass on to our team your feedback! Secondly, we apologize for the impact the Pure Beauty formula had on the taste of your coffee. Our Pure beauty does have other ingredients like Zinc and Silica that may have a slight taste. We are glad to hear that you found the Organika Original Collagen to be tasteless when added to your coffee and enjoyable. Thank you-Stephanie CX team
04/12/2023
Nancy S.

Canada
I recommend this product
Enhanced collagen pure beauty
I'm not sure if I am experiencing any results or not. Does it take several months to really notice results? I only wish it was tasteless.
04/07/2023
Debora

Canada
I recommend this product
I think its working!
Although I think this product is working, it's way too pricey for only a 20 day supply. That's a lot of money to pay every 20 days and for this reason, I probably won't continue with this collagen powder.
03/03/2023
Loretta C.

Canada
I recommend this product
Loretta
I like it want more
These Products Might Be Great For You Too