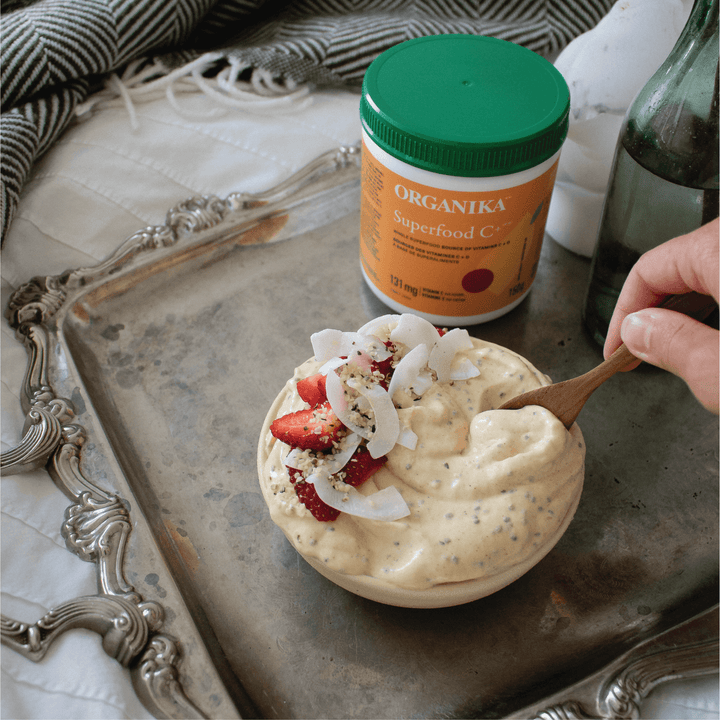 recipes
Mango Lassi Smoothie Bowl Recipe
Karolina Gnat
Vitamin C and D are some of the best supplements you can take to enhance your immunity - which we all know is crucial right now. Actually, seriously sick coronavirus patients in NYC's largest hospital were given massive doses of Vitamin C based on the promising reports from those who recovered from COVID-19 in China. The patients who received vitamin C did significantly better than those who did not.
"It helps a tremendous amount, but it is not highlighted because it's not a new sexy drug."
-Dr. Andrew G. Weber, pulmonologist and critical-care specialist.
Vitamin C was one of the first two antioxidant compounds to be sold as dietary supplements (the other being Vitamin E). It has a history of helping reduce symptoms of the common cold, and boosting immunity. Similarly, vitamin D has been associated with immune health benefits as well as increased cognition, bone health and mood. These two vitamins are the perfect combo!
Get your daily fill of vitamin C (and some!) and a healthy dose of vitamin D in the most delicious way with this mouth-watering Mango Lassi smoothie bowl featuring our Superfood C+, a wholesome mix of nature's best superfoods.
Mango Lassi Smoothie Bowl
Ingredients
2 cups frozen mango
1 cup canned coconut milk, full fat
1 tbsp. chia seeds
2-3 tsp. Organika Superfood C+
1 tsp. cinnamon
1 tsp. ground turmeric powder
Juice and zest of 1/2 lemon or lime, either works
Pinch of salt
How-to
Add all ingredients to a blender and let sit for 10 minutes to allow chia seeds to absorb some liquid.
Blend all ingredients together and pour into a bowl. The consistency should be thick.
Top with your favourite things: coconut shreds, berries, hemp seeds, etc.