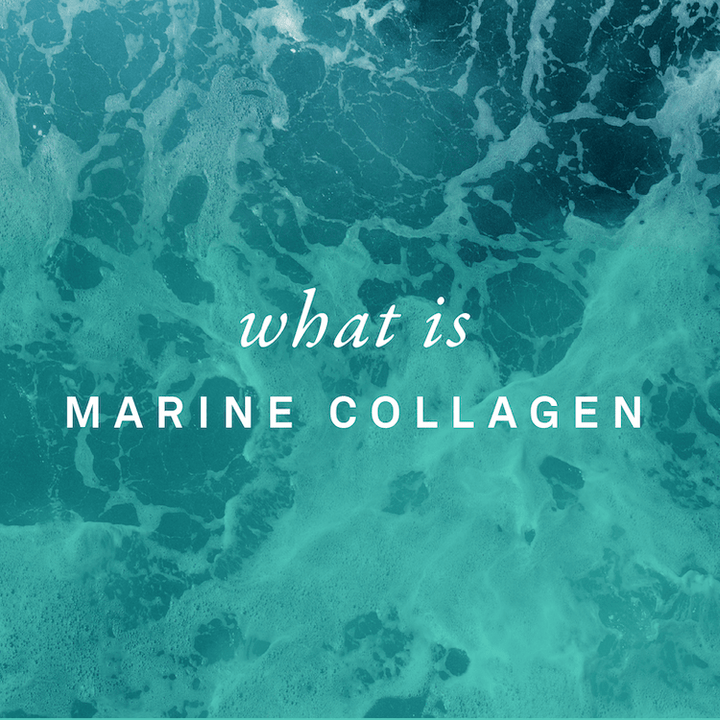 Marine Collagen: Beauty from the Sea
You may be seeing marine collagen or hearing about it, but unsure what the difference between that and bovine collagen is, and/or which one you should be consuming.
As expected, Marine collagen comes from fish and is rich in Type 1 collagen. The collagen from this source is pescatarian-friendly for those that do not consume bovine (which also has Type 1 collagen).
However, there seems to be an ongoing debate over what is the best source of collagen and why some may opt for a marine source.
We are diving into all things marine collagen and answering all your questions about it.
Where does marine collagen come from?
As the name implies, marine collagen comes from the sea – derived from fish scales, bones, and skin.
Organika's Marine Collagen powder is sourced from Canada! It comes from the scales of wild-caught cod, pollock and haddock from the North Atlantic.
What is marine collagen used for? What are the known benefits?
Collagen, in general, is used to help with skin health (specifically with aging skin, wrinkles), stronger hair and nails, as well as promoting joint health. Rich in Type 1 collagen, marine collagen is linked with beauty benefits and tissue repair.
Some of the most popular benefits of marine collagen include:
Rejuvenated skin
Improved skin texture and hydration
Fuller and smoother hair
Stronger nails
Faster-growing hair and nails
Reduced cellulite
Why do some people prefer marine collagen?
Some may consider marine collagen a more sustainable alternative. The fishing industry often has a lot of unused raw materials from the fish they catch, including the fish skins where marine collagen comes from.
In that case, marine collagen can be a more comfortable choice as it may seem to offer a more economical and environmentally friendly option for various companies. Consumers may like to see that instead of wasting fish skins, companies can use the excess materials to create other products.
Is marine collagen better than bovine collagen?
This is the million-dollar question consumers are asking.
The truth: although they come from different sources, fundamentally, the type of collagen from both sources is the same.
Collagen is a large molecule, so for it to be efficiently absorbed and utilized by the body, it must first be broken down into smaller pieces, which you may have heard of as collagen peptides. Furthermore it must go through a process known as hydrolyzation: natural enzymes break down collagen into the smaller collagen peptides, without the use of heat or chemicals.
High bioavailability in a collagen supplement is assured by the size of its peptide molecules, known as the molecular weight. The smaller the molecular weight, the easier it is for collagen peptides to reach the blood stream and be effectively used in the body.
Both Organika's marine and bovine collagen go through these processes for high bioavailability and ease of digestion.
The nitty gritty: marine collagen naturally boasts a lower average molecular weight than any other collagen source - Organika's weighs in at an impressively low 2-2.5 kDa, compared to an average 40-45 kDa in most bovine collagens. However, bovine collagen can have a molecular weight comparable to that of marine collagen - all it takes is more rounds of hydrolization. This is how we achieve a molecular size of under 3 kDa for our bovine-sourced Enhanced Collagen Original!
So essentially, what it comes down to is personal preference and dietary restrictions.
It can also be beneficial to combine a variety of collagen supplements (bovine, bone broth, marine and even poultry-sourced collagen) for optimal health.
Want options for Marine collagen?
There is something for everyone – whether you prefer powder, capsules, liquid, or a water enhancer – there is a collagen option for you.

Marine Collagen Powder

High in type 1 collagen, which is essential for maintaining skin, hair and nail health. Hydrolyzed for easy digestion, our marine collagen powder is also tasteless, easily mixing into beverages or foods.
Convenient capsules more your thing? Try our Salmon Collagen Capsules. Because they're higher in omega-3 fatty acids, in addition to beauty health you get support with joint pain associated with osteoarthritis.
Note: some people prefer salmon capsules for marine collagen because of the omega-3s that have added skin and arthritis benefits.
If you prefer liquid or flavoured (with orange), you must try this beauty elixir. Made with marine collagen, 200 mg Vitamin C, and 500 mcg biotin, you are getting the ultimate beauty benefits.
A convenient source of marine collagen and vitamin C in a fizzy tablet that will give your water (and your skin) a makeover. Enjoy a variety of flavours: Kiwi, Cranberry, Rose, Lavender and Honey Peach
The contents of this article have been fact-checked and reviewed by Registered Holistic Nutritionists.