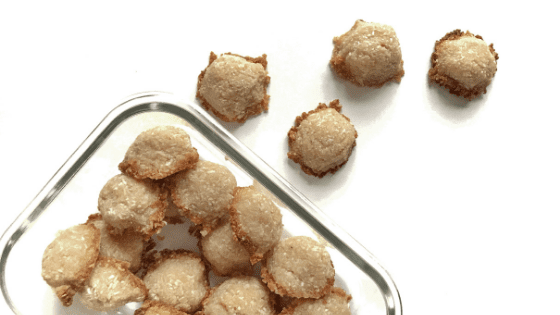 Recipes
MCT Collagen Macaroons
Megan Kelly, CNP
Did you know that MCT Oil Powder isn't just the perfect addition to make a frothy coffee? You can also add MCT Oil Powder to healthy baking, energy balls, or add it to breakfasts like oatmeal! You can even use it in healthy treats like these MCT Collagen Macaroons. Organika Ambassador, Megan O'Kelly is a Registered Holistic Nutritionist who specializes in AIP living. AIP stands for Autoimmune protocol, which many people that have been diagnosed with an autoimmune disorder (like Hashimotos, Type 1 Diabetes, Inflammatory Bowel Disease, or Multiple Sclerosis), will follow to keep their symptoms under control. If you want to learn more about how the medium-chain triglycerides used in MCT Oil Powder are essential for those following an autoimmune protocol, check out this blog post.
MCT Collagen Macaroons (AIP, Paleo, Keto, GF, DF)
Ingredients
3 cups unsweetened shredded coconut
2 tbsp coconut flour
2 tbsp collagen powder
4 tsp MCT oil powder
¼ tsp sea salt
4 tbsp coconut oil
½ cup raw honey
2 tbsp vanilla extract
How-to
TIME: 60 minutes
SERVES: 24
1. Preheat oven to 350 degrees F
2. Combine all ingredients in a food processor and combine into a dough.
3. Scoop dough one level tbsp. at a time onto a parchment paper lined baking sheet.
4. Bake for 5 – 7 minutes, until macaroons start to turn golden.
5. Cool in the fridge or freezer for 30 minute to 1 hour to set.