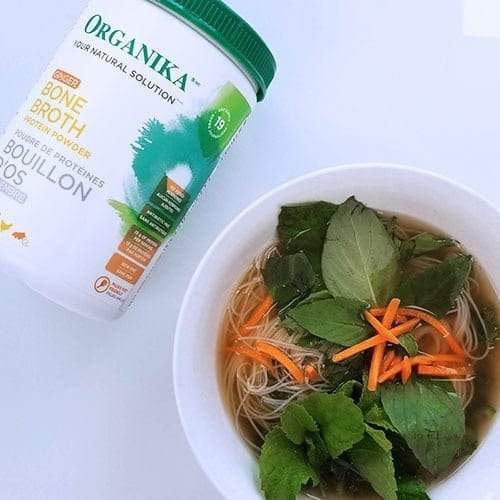 With the chilly months coming ahead, we've prepared an easy-to-make, Meatless Pho on the Go that you can take anywhere! Have it in a bowl or put it into a mason jar and have it ready to eat, you'll love this recipe.
Meatless Pho on the Go
Ingredients:
Pho:
2 tbsp of Organika Health Bone Broth Chicken Ginger
8 oz. dried rice noodles
2 tbsp olive oil
1 package of tofu
1 tbsp fresh ginger, grated
2 tbsp hoisin sauce
1 tbsp fish sauce
Garnishes:
1 onion, thinly sliced
2 cups of bean sprouts
1/2 cup fresh cilantro
1 jalapeno, thinly sliced
2 limes, halved
Directions:
In a large pot of water, cook rice noodles according to package instructions; drain well and set aside.
Heat 1 tablespoon olive oil in a large stockpot or Dutch oven over medium heat. Cut up tofu into small cubes and leave it in the stockpot until it gets to desired texture.
Add remaining 1 tablespoon oil to the stockpot. Add garlic and ginger, and cook, stirring frequently, until fragrant, about 1-2 minutes.
Whisk in chicken stock, hoisin sauce and fish sauce. Bring to a boil; reduce heat and simmer for 10 minutes.
Serve immediately with rice noodles and tofu, garnished with onion, bean sprouts, cilantro, mint, jalapeno and limes, if desired.