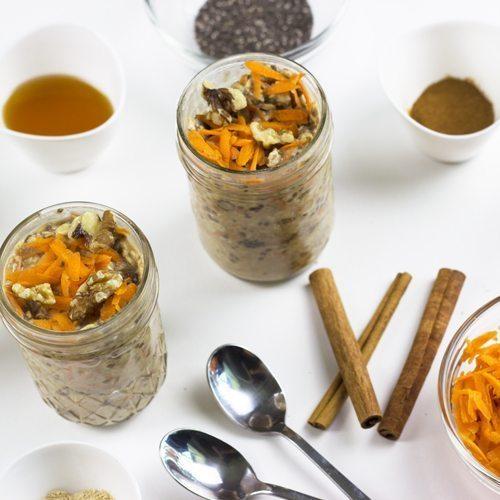 Eat + Drink
Mood Balancing Carrot Cake Vegan Overnight Oats with Maca
Organika Health Products
Wake up on the right side of bed to this maca-infused recipe for vegan overnight oats
Breakfast is the most important meal of the day, and sugar-laden cereals just don't cut it. You need wholesome healthy food to start your day off right. Vegan overnights oats are the perfect fit for a healthy breakfast. Loaded with fiber, complex carbohydrates and protein, oatmeal is a great breakfast to fuel you and keep you full until lunch. Making oatmeal is a no-brainer when you use the overnight oats method. You prep it the night before, let it soak in the fridge overnight, and dig in the next morning. This overnight oats recipe is carrot cake inspired, with shredded carrot, coconut flakes, cinnamon, raisins and a hint of sweetness from pure maple syrup (you can also
go sugar-free and use stevia instead
). Infused with
maca
powder for mood balance and a boost of antioxidants, this recipe will help to energize the start of your day whether you're
a morning person
or not.
Mood Balancing Carrot Cake Vegan Overnight Oats
Enjoy the flavours of carrot cake at the breakfast table in this healthy fiber packed make-ahead vegan overnight oats recipe. Serves 1-2
Ingredients
1 cup organic rolled oats (gluten free if necessary)
1 tsp organic cinnamon powder
1/2 cup organic carrots, shredded
3 tbsp organic raisins (no sugar added)
1 tbsp organic chia seeds
2 tbsp organic shredded coconut
1 tbsp organic pure maple syrup
1 tsp organic cinnamon powder
1 ¼ cup organic almond milk (unsweetened, plain)
Optional: pecans or walnuts for garnishing
Directions
Combine all of the ingredients into a large bowl and mix with a spoon until fully combined.
Press the oatmeal into 1 or 2 jars depending on your serving size, and press down with a spoon until the liquid covers the top layer of oatmeal.
Seal with a lid, and store in the refrigerator overnight for oatmeal to soften and absorb milk
Garnish in the morning as desired and enjoy.
What's your favourite way to eat oatmeal?