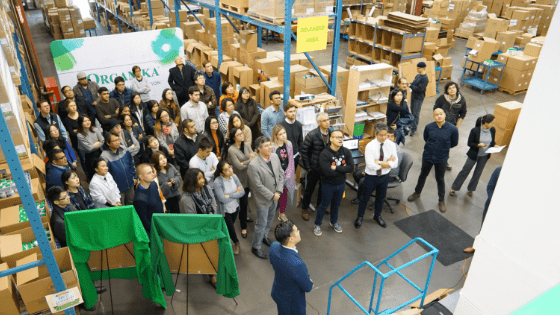 Organika News
Organika's New Core Values, Mission and Vision
Rhiannon Lytle
New year, same us. But with new core values, along with a new mission and vision!
2018 brought us a lot of growth: a new look, new packaging, new products, and a lot of new people on our team. But we plan to make 2019 even bigger, and make sure that we support you on your journey to your healthiest self. To do that, we had to look back to what guides us: our mission and vision at Organika.
What are our big goals that will drive us this year?
Our new mission:
To help people live healthier
What does that mean?
As a business, this is our main goal.
It means that we want to ensure good health is accessible to those who are looking for it! Here are a few ways we will achieve this: 
Products will be in more stores across the country

There will be lots products to help you reach your goals

We will provide more information to ensure you feel educated about your choices (... check out our vision for more details)

You'll find us at a lot of community events!
Our new vision:
To be the #1 guide for natural health in Canada
What does that mean?
A vision is our future self. It's our goal for not just 2019, but for years to come. We want to be the source for your questions about natural health and nutrition, whether that is for yourself, your friends or your family.
If you want to know more about a product, or ways that you can make natural, and healthy solutions part of your daily routine, we want you to connect! Send us a message on social media, or call our customer service team! We'll always make sure we respond, and find you the best solution to your concerns or questions.
And how will we achieve this?
Providing you with more online resources, like e-books and blog posts (check out some of your favourites from 2018)

Answering your questions on social media (from a Holistic Nutritionist!)

Educating our retailers to ensure they can give you the best information

Social media videos to give you recipes, must-have product information, and everyday tips to help you live a healthier and happier life

More naturopaths and nutritionists will be speaking at stores and events near you
Our Core Values: HEALTHY with Purpose.
What does this mean?
It's an acronym that we like to work by. When we focus on these core values, we can ensure that we're giving our best selves to our products and to our customers. When we follow these values, we know we'll be able to make our mission and vision a reality. 
Humble:
Focused on people, and elevating those around you
Efficient:
Keeping things super simple
Accountable:
Taking ownership of our roles and responsibilities
Live Healthy:
Championing a healthy lifestyle
Team Player:
Embracing diversity and moving together as one team
Hunger:
Continuously going above and beyond
with Purpose:
F
ocusing on what matters
We have our mission and vision, as well as the core values hung across our office: in our meeting rooms, in different departments, written on whiteboards... everywhere! This helps us to remind us about our goals each day. Just like any office, we all have our days where we just don't want to be there. Whether that's a long week, family problems, or weather (hey, we all live in the Lower Mainland in B.C.!), when we see our mission and vision, along with our core values, it helps to change our mindset and remember our "Why"!
What are some of your goals this 2019?! We'd love to know. Share them with us on Instagram or Facebook!
While you're at it, join the Organika Healthy Living Community on Facebook to talk more about YOUR New Year's Goals!