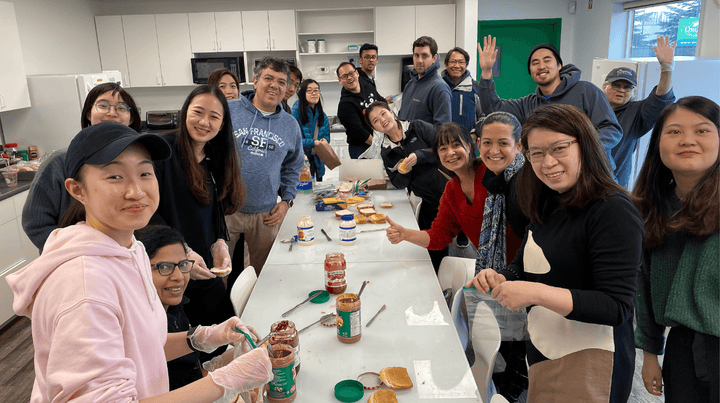 Organika News
OrganiGiving: Giving a meaning to the word 'Community'
The Organika Team
On January 11th, the Organika team joined together on an important mission: OrganiGiving, our annual volunteering expedition to the Downtown Eastside, an often misunderstood part of our Vancouver community. OrganiGiving has been an important tradition for the Organika family since it began, five years ago. It's a time to give back and reflect on what it really means to be part of a community.
The big day is in January, but our preparations for OrganiGiving begin in the summer. Our entire team spends months collecting funds and donations - this year, we were able to collect an incredible 120 kg of clothing for donation, as well as the funds to prepare over 400 sandwiches!
Joining together
The team gathered at Organika HQ, where our volunteers joined in strength to prepare our donations. Sorting donated clothes and making sandwiches goes a lot faster when everyone works together. Community is all about uniting to accomplish bigger and better things. There's strength in numbers, and we can use it to do good!  
With our donations prepared and organized, we set out to the DTES. This area, known as the poorest postal code in Canada, has a homeless population of
over 2,000 people
. The night before had been a wet one, in typical Vancouver fashion, and many of the people we encountered expressed their gratitude for getting dry gloves, socks and clothes to keep them warm. 
Kindness and understanding can go a long way. The willingness to face those who are misunderstood and feared, and see human beings with names and life stories. Many of the DTES residents (
as many as 95.2%
) face mental health and addiction challenges, which contribute to social isolation. When we reach out a helping hand, we're not just offering food and clothes - we're providing human warmth that some may not have experienced in a long time.
OrganiGiving is such an important tradition to Organika because it teaches us many lessons. The importance of even the smallest gesture of kindness. The privileges most of us take for granted. The good we can bring into the world when we make the effort to help. After all, appreciating our fellow humans is the ultimate meaning of community.
"
My favourite part of Organigiving is seeing the team come together to do something amazing for our community. The gratitude expressed on the faces of all the people we helped that day will stay with me for a long time.
"
- Jordan Chin, President & COO
"
I loved making the sandwiches together! It was nice to see us coming together for such a meaningful initiative
.
I will never forget seeing just how many people were on the streets homeless, with barely enough warm clothing to face the cold weather.
"
- Margie Lee, Innovation Assistant
"
When my family immigrated to Canada, we used to live in Downtown Eastside so this annual event is always dear to my heart because I'm really giving back to my (old) community. I will always remember that everyone has a story and we should never judge a book by its cover. Kindness can make a difference and can help change someone's life
.
There are no words to describe the feeling that you made a difference (small or big) in someone's day. Witnessing their smiles was priceless. I think that was my favourite part of the day.
"
- Jane Huynh, HR Manager
Organika encourages our family (that's you!) to make an impact in their communities. If you'd like to be involved, send an email to
CSR@organika.com