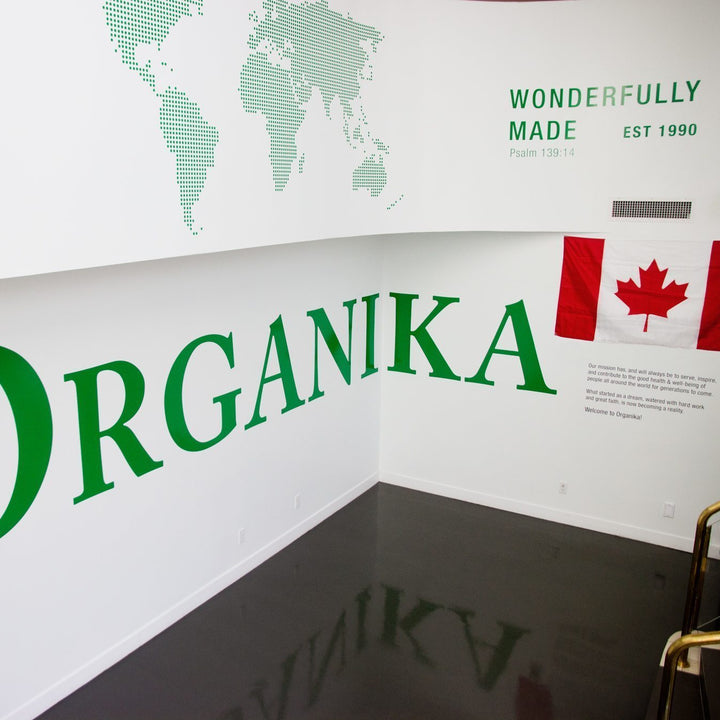 Organika News
Organika Eh? Canada's Natural Health Solution
Organika Health Products
How a natural remedy for kidney stones started it all
Organika® was founded in 1990 by Tom Chin as a small company in British Columbia. Today, alongside his two eldest sons Jordan and Aaron, Tom continues to lead the innovation, quality and service that we work to provide every day. We have grown a lot over the last 26 years and a lot of great changes have come with that growth. But, something that hasn't changed is the fact that we're Canadian; and that's a part of Organika® that we're really proud of. Our mission has always been to serve, contribute and inspire better health across the globe, and that starts in our own backyard. We are proudly based in Richmond, British Columbia where we manufacture and distribute all 560 Organika® natural health products ourselves. We are sold through natural health food stores across Canada in an effort to make natural health as accessible as possible from our family to yours. Choosing natural health is an empowering choice, and our hearts are behind supporting you and your family in reaching the healthiest and happiest potential possible, while encouraging you to shop Canadian.
Let us tell you a little bit about how it all began.
Years ago, Tom suffered from having kidney stones. Facing surgery, a close friend of Tom's offered him the alternative advice to first try drinking a mixture of 1-part water to 1-part juice from a pound of fresh parsley and a cut of turmeric for three days straight. Trusting his friend's advice, Tom drank the concoction for three days. Amazingly, his issues improved so much so that he was able to avoid the medical procedure altogether. He was empowered by the profound effect that natural remedies could have on his own health ailments. So he set forth with the intention to empower natural health in others. Tom entrenched himself in research of the natural health industry. He studied conditions and how they correlated to the available natural health options that were already on the market. He set his intention to serve others, and with that, Organika® was born. In 1990 the first four products to be distributed were Vitamin C, CoQ10, Korean Red Ginseng and Gingko Biloba for issues of heart health, circulation and energy. Today we offer over 560 natural health products to help with all kinds of health issues. We recently took a step back in time, to recreate the blend that started it all. Definitely not for the faint of heart, this green drink was Tom's first step towards empowerment and better health.
Tom Chin's Healing Elixir
Ingredients:
a pound of parsley
a cut of turmeric
water
Instructions:
Juice the parsley and the turmeric, add equal parts water to the amount of juice produced.  
Throughout, 25 years of growth and innovation, and now with distribution in 26 countries worldwide, the mission of Organika® will always continue to be to serve, to contribute and to inspire.   Read more about our company on our
About Page
.