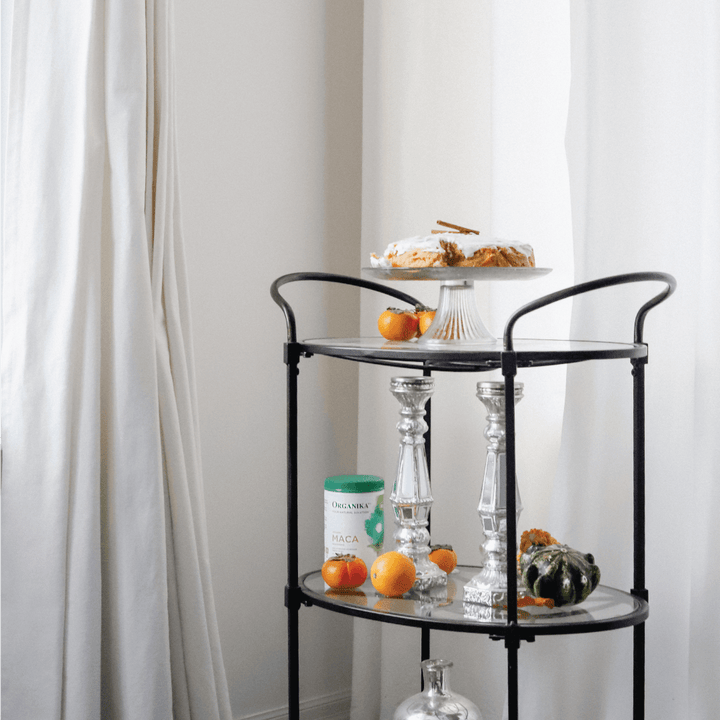 recipes
Mood-boosting Pumpkin Cake Recipe
Shania Bhopa
Do you have pumpkin puree leftover from Halloween? Let's put it to good use. Perhaps in the form of a fluffy, yummy, mood-boosting dessert?
Presenting to you a carb-loving mood-boosting pumpkin cake! Did you know carbs actually make you happy? Really, we promise! The connection between carbohydrates and mood is all about tryptophan, a nonessential amino acid. As more tryptophan enters the brain, more serotonin is synthesized in the brain, and mood tends to improve.
When diet culture tells you carbohydrates are bad, it is also telling you to avoid happiness - who wants that, anyway? We need to leave diet culture at the door and stop carb-shaming our friends and family members. Together, we can feel empowered and enjoy the most lovely things in life - which happen to be carbohydrates and sweet baked goods. Wellness is balance and anyone who tells you otherwise needs to brighten up with some carbohydrates in their life!
As a plus, this recipe includes all the benefits of maca powder. In women, maca supplementation has been studied as a natural way to balance hormonal health, energy and mood. Maca has also shown promise in supporting healthy bone structure, which can decrease with age and lowering estrogen levels.
Let's boost your mood with the love of carbs and maca!
Mood-boosting Pumpkin Cake
Ingredients
2 cups of all purpose flour
2 teaspoons of baking powder
1 teaspoon of baking soda
1 teaspoon of salt
1 and 1/2 teaspoons cinnamon
1/2 can of pumpkin puree
1 cup of oil
4 large eggs
1 cup of brown sugar
1/3 cup of granulated sugar
1 table spoons of vanilla extract
2 table spoons of Organika Maca powder
How-to
Preheat the oven to 350°F and grease a 9×13 inch baking pan.
Whisk the flour, baking powder, baking soda, salt, cinnamon and maca powder together in a large bowl. Set aside.
Whisk the oil, eggs, brown sugar, granulated sugar, pumpkin puree, and vanilla extract together until combined.
Pour the wet ingredients into the dry ingredients and use a mixer or whisk until completely combined.
Pour batter into the baking pan and bake for about 30 minutes. To check if fully baked, insert a toothpick into the centre of the cake. If it comes out clean, your cake is ready!
Decorate with your favourite frosting, cinnamon sticks, pumpkin pie spice - the sky's the limit!
Enjoy!