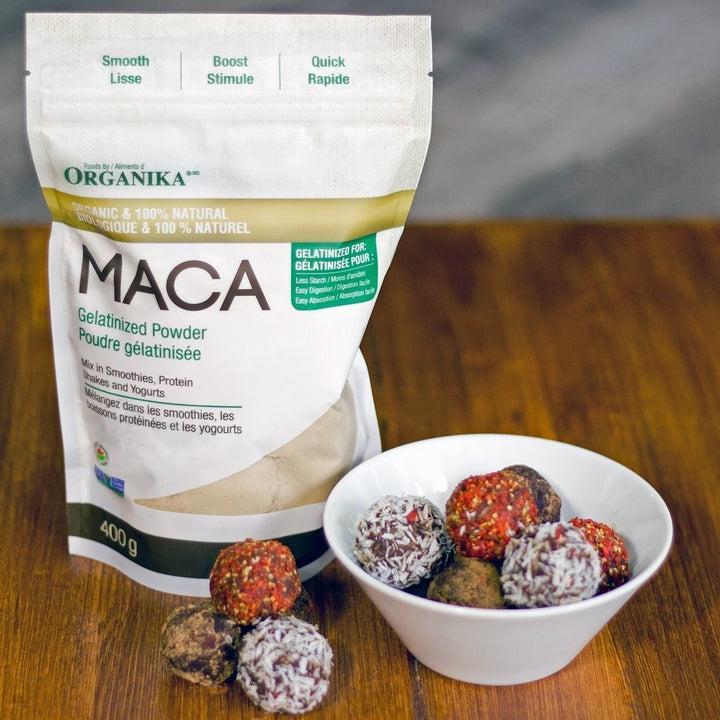 Eat + Drink
Raw Chocolate Maca Balls
Organika Health Products
Treat yourself to a healthy raw chocolate snack
Snacking. We all do it. But do you do it well? Snacking gets a bad reputation most of the time. Sure, snacking is not great if you're snacking on chips, cookies and candy all day every day; but, if you're choosing healthy snacks then it's perfectly okay! We're talking about fresh fruit, nuts and seeds, dark chocolate, veggies and hummus, smoothies and … wait, did we say chocolate? Yes. Yes, we did. Chocolate isn't all bad if you're choosing high quality chocolate. That means raw chocolate made with antioxidant-rich raw cacao or dark chocolate without all the fillers and flavourings. If indulging on chocolate sounds like a perfect snack to you, you need to try our Raw Chocolate Maca Balls recipe. It's a combination of nuts and dried fruit with maca powder, and raw cacao to give it some energy and a chocolatey bite. Both
maca
and cacao combined add antioxidants, while maca powder is also great for mood balance and sexual health. Next time you need a snack, give these a try!
Raw Chocolate Maca Balls
Makes about 20 balls
Ingredients:
1 cup almonds
1/2 cup walnuts
1 ½ cup of dates, soaked
1/4 cup goji berries
1/2 cup shredded coconut
3 Tbsp Raw cacao powder
1 Tsp cinnamon
Directions:
Add almonds and walnuts to a food processor and pulse until coarsely chopped.
Add your dates to the food processor and pulse until they become more of a doughy consistency with the nuts.
Add all of the remaining ingredients and pulse until fully combined.
Roll into balls, and store in the refrigerator or freezer.
Optional: Decorate
Roll the balls into whatever topping you'd like. Get creative. Try coconut, cinnamon, raw cacao, ground walnuts, maca powder, or ground goji berries for options Grab, eat, enjoy!
How do you like to snack?