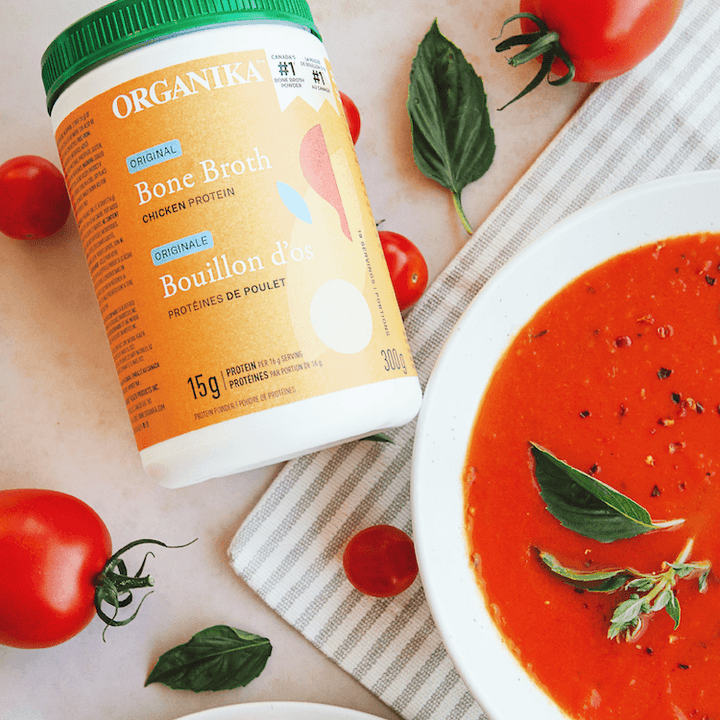 recipes
Roasted Tomato and Bone Broth Soup
Organika Health
This recipe truly speaks soup for your soul.
A hearty bowl of warming tomato soup, elevated with the richness and nutrition of bone broth... and you're officially in soup heaven! This beautiful blend of fresh tomatoes, Organika Bone Broth and basil is packed with flavour and fall goodness.
So good and good for you (double score)!
Recipe adapted from Little Broken
Roasted Tomato and Bone Broth Soup
Ingredients
3 lbs ripe plum tomatoes, cut in half
1/4 cup + 2 tbsp olive oil
2 cups chopped onions
6 garlic cloves, minced
2 tbsp unsalted butter
1/4 tsp crushed red pepper flakes (optional)
1 (28 oz) can whole plum tomatoes, with juice
4 cups fresh basil leaves, packed
1 tsp fresh thyme leaves (or 1/2 tsp dried)
4 cups water with 4 tablespoons Organika Chicken Bone Broth Powder
Salt and pepper to taste
How-to
Preheat the oven to 400°F.
Line a baking sheet with parchment paper and set aside.
Toss the tomatoes with olive oil and lay on the baking sheet, sprinkle salt and pepper and roast for 45 minutes.
In a pot, melt butter over medium heat. Add the onions, garlic, red pepper flakes, and a pinch of salt. Sauté until onions until translucent.
Add in canned tomatoes, basil, thyme, the roasted tomatoes, including the juices, and your chicken bone broth mixture. Add in the desired salt and pepper.
Bring the soup back to a simmer and cook for 40 minutes, uncovered.
Transfer the soup to a blender and puree until smooth.
Enjoy living health!