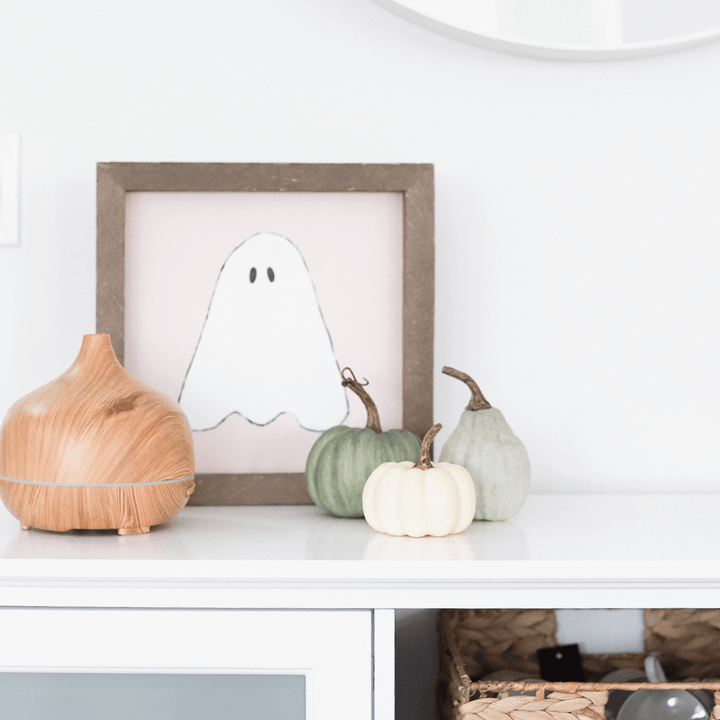 Eat + Drink
Mama's Guide for a Safe Halloween
Moments With Mellissa
Halloween may look very different this year, but there are many ways to keep the spooky vibes alive safely! Take advantage of the time you get to stay in for Halloween this year with your family, and plan an unforgettable day. How about a combination of a family bake session, DIY Craft and your favourite Halloween movie? 
Create DIY Halloween decorations
Nothing says "new normal" like finding some cute crafts to do with your family for Halloween. It doesn't all have to be about the candy! But you can always munch on a bowl of your favourite treats while crafting. 😉
This craft is super easy and you can really make it your own!
What you'll need for this cute little ghost:
A picture frame (choose whichever frame you like)
White chalk paint
White, red and black acrylic paint
Brushes
Pencils 
Steps:
Take the backing off your frame and cover it in a layer of white acrylic to get a base coat.
Time to add in colour! The photo above has a blush pink background by mixing white chalk paint, some white & red acrylic. Pro tip: the chalk paint is thicker, but by mixing it with acrylic makes it less lumpy, giving you a nice smooth finish.
Let completely dry. Time for a treat break! 🍬
Next, draw on the ghost ! Paint white using same technique as above with acrylic and chalk.
Let completely dry. Have a dance-off to some spooky Halloween tunes!
You're almost done! Trace the outside of your ghost, add the eyes and then use a thin brush to brush on the black lines with paint. Let dry and then so a thin layer of white again over some parts so the lines aren't too defined.
Display in your favourite place! 
Make some yummy Halloween treats
Baking brings everyone smiles, plus let's admit one thing...home baked goods are better than any candy you can get trick-or-treating!
When baking with the little ones, it's always best to find a recipe that is easy with the least amount of steps and hey, if we can avoid having to use the oven, we don't have to worry about burnt treats, which usually mean tears and temper tantrums.
So here is an easy, kid-friendly recipe you can make with your kiddos. You can make them as Halloween-y as you'd like! Oh, and it can totally be adapted to be a vegan-friendly recipe.
No-Bake (Healthy) Brownies
Ingredients
1 cup raw almonds
1.5 cups of walnuts
2.5 cups of dates; pitted for less steps! (If dry, soak for 10 min in warm water)
3/4 cup of cacao powder
2 tbsp of cacao nibs (plus more for topping)
1/4 tsp of sea salt
1 tbsp of Organika Maca + Cacao Powder (can be adjusted to taste)
1/4 cup of your desired milk
1 cup of chocolate (I really enjoy dark chocolate, and you can buy dairy free chips for a vegan option!)
2 tbsp of coconut oil, melted
1/4 cup of powdered sugar



How-to
In a food processor, chop up the walnuts and almonds. (You can also buy them pre-chopped.) You can add in the cacao powder here or mix the powder and nuts in a bowl.
Place dates in food processor (soak them beforehand if needed), and chop.
Slowly add the dates to the powder and nut mixture; do this in food processor or in the bowl by hand (you can hand mix and apply some pressure to the ingredients mix).
Add this mix to an 8x8 pan (insert parchment paper), and press in the mixture. Apply pressure so that it creates a solid piece.
Sprinkle some.chopped walnuts and cacao nibs.
Put in the fridge for 25-30 mins.
Remove and apply ganache.
Ganache:
Warm up 1/4 of your desired milk.
Add in the cup of chocolate and cover to allow for heat to melt the chocolate (about 2 min). Mix with a whisk.
Add in the coconut oil, and the desired amount of the Organika Maca + Cacao Powder.
Mix and put in the fridge for 8-10 mins.
Remove and whisk again to maintain thickness. Add some of the powdered sugar if desired and needed to thicken up.
Spread generously over the base layer. Add some crushed walnuts and Cacao nibs or add your own Halloween flair and return to the fridge for another 20 mins.
Remove and cut into pieces; each 8x8 should make 12 servings!
Enjoy with a cold glass of milk or a warm cup of Organika Mylk Latte Powder!