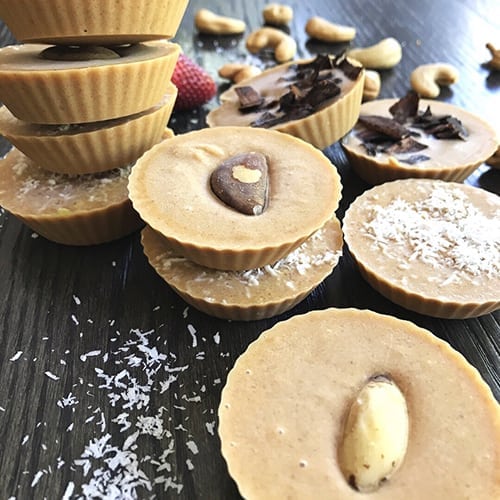 Eat + Drink
Salted Caramel Cashew Freezer Fudge
Dr. Tara Weir
If you're on the hunt for an easy & delicious treat, look no further, Salted Caramel Cashew Freezer Fudge IS YOUR ANSWER!! These rich and decadent little fudge cups have been a HUGE hit with all my taste testers.  Better still, they're crazy simple to make and packed with healthy fats & protein.  Trust me here and give the recipe a go. Your future self will thank me!
Salted Caramel Cashew Freezer Fudge
EASY | SERVES 16 Fudge cups
Ingredients:
1 cup coconut butter
1 cup cashew butter
2 Tbsp coconut oil
1/2 cup Organika Health Enhanced Collagen 
1 Tbsp Organika Health Gelatinized Maca powder (optional)
1 tsp pure vanilla extract
1/4 tsp salt
2 Tbsp maple syrup or stevia to taste
Optional toppings: Brazil nuts or other nuts/seeds, desiccated coconut, chocolate-covered coconut chips, chocolate chips or chunks, sprinkle of sea salt
Directions:
Put coconut butter, cashew butter and coconut oil in small pot over medium-low heat and melt together, stirring frequently.
Remove from heat.  Scrape into a medium-sized bowl.
Add collagen, maca, vanilla extract, and salt and beat together with a hand mixer until smooth.  Add sweetener to taste.
Scoop fudge into muffin cups lined with silicone liners.  Sprinkle with toppings as desired and freeze until firm.  Serve cold.
Salted Caramel Cashew Freezer Fudge can be stored in an airtight container in the freezer for up to 2 months. By: Dr.
Tara Sunshine
(
@drtarasunshine
)
Tara is an avid traveller, fitness enthusiast, and aspiring chef who endeavours to inspire others to experience the joy & richness of life.