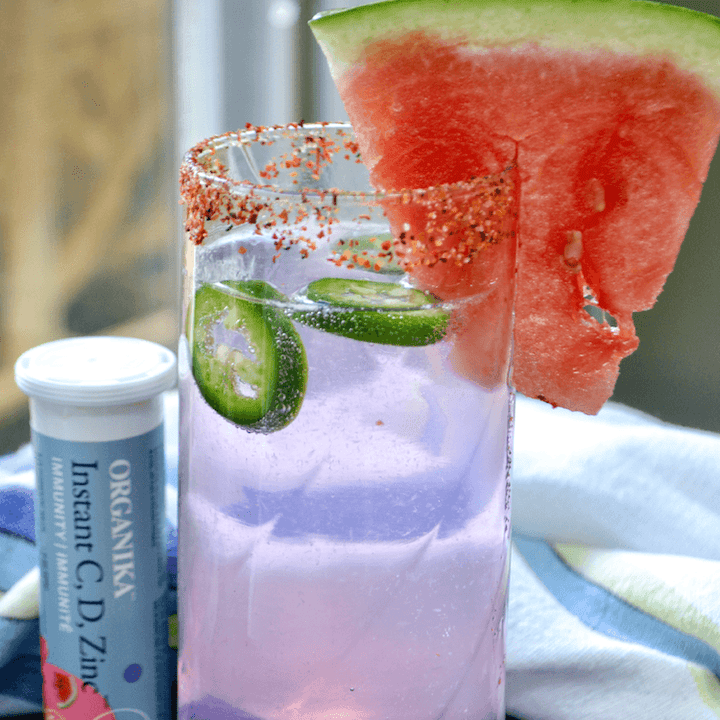 recipes
Spicy Watermelon & Tajin Mocktail
Organika Health
Ditch boring immune-boosting drinks and spice it up with a delicious mocktail.
Combining the refreshing taste of watermelon with the tang of Tajin and lime, this may just become a summer staple for you. The hidden secret is using an all-star Instant C, D, Zinc Immunity Effervescent tablet and transforming it into a tasty drink.
Stay refreshed and have fun, all while your body gets: 1,000 mg of vitamin C, 20 mg of zinc, 1,000 IUs of vitamin D and 0 g added sugar.
Spicy Watermelon & Tajin Mocktail
Ingredients
½ lime + ½ tbsp Tajin for the rim
Splash of lime juice
1 cup of sparkling water
2-3 slices of 1 jalapeno (for garnish)
1 watermelon slice (for garnish)
How-to
Start by adding ½ lime + ½ tbsp of Tajin to the rim
Dissolve 1 Instant C, D, Zinc Immunity Effervescent tablet in approximately 1 cup (or more, depending on the size of your glass) of sparkling water
Once dissolved, squeeze in the remainder of your lime juice, 2-3 jalapeno slices (based on how much of a kick you want), and a slice of fresh watermelon for garnish!