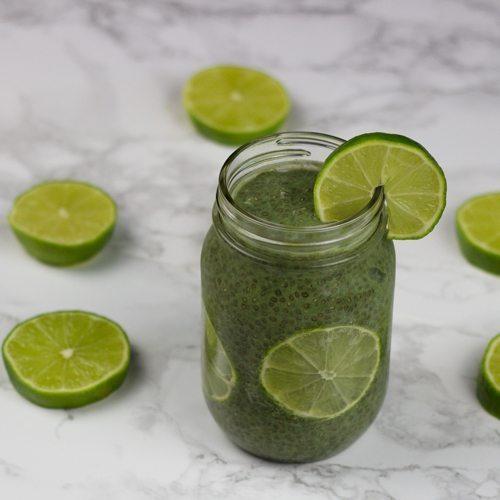 Eat + Drink
Spirulina Lime Vegan Chia Seed Pudding
Organika Health Products
Try this timesaving make-ahead vegan chia seed pudding for breakfast
This vegan chia seed pudding is a lifesaver. It takes just five minutes to prepare, it tastes great, and it's packed with vitamins and minerals. Your busy morning excuses just met their match; breakfast is no longer optional. It's not fun going to work hungry or rushing out the door after a busy morning. That's why quick make-ahead breakfast options are a must-have in our books. It turns starting your day off right into a total no-brainer. This chia seed breakfast pudding is superfood packed with spirulina and chia seeds. Spirulina is a blue-green algae that's a rich source of plant-based protein, iron and antioxidants perfect for powering up this vegan breakfast. Chia seeds are impressive little seeds that pack a punch of nutrition. They're a great source of a vegetarian-friendly omega-3 essential fatty acids, as well as fiber, calcium and plant-based protein. Add some lime juice and coconut milk, with a little sweetness to the mix, and you've got yourself one tasty tropical power breakfast.
Spirulina Lime Vegan Chia Seed Pudding
Serves 1-2 Take 5 minutes to prepare this nutritious make-ahead breakfast so you can start your week off right.
Ingredients
1 ½ cups organic coconut milk
1/2 an organic avocado
1/3 cup organic lime juice
3 tbsp organic maple syrup*
1/4 cup organic chia seeds
Directions
Add all of the ingredients, except for the chia seeds, to a blender and blend until smoothly combined.
Pour the mixture into a large bowl, and add chia seeds. Whisk until chia seeds are evenly distributed throughout the mixture.
Store it in the fridge for 2-3 hours, or overnight to thicken.
Serve in a bowl, garnish with fruit, granola or coconut flakes, and enjoy!
Note: You can substitute other sweeteners such as honey, or coconut nectar for the maple syrup in this recipe. To make this recipe sugar-free, trying using
stevia powder
for sweetness.
What's your go-to quick and easy breakfast?