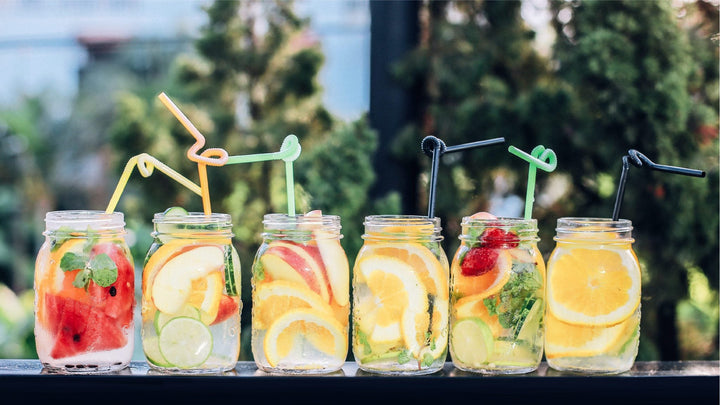 recipes
Summer Sipping: 4 healthy drinks to beat the summer heat
The Organika Team
Summer is here and with it, comes the need to hydrate, hydrate, hydrate! Drinking enough water isn't just a matter of staying fresh in the hotter months: keeping yourself properly hydrated is essential for keeping your body working as it should. We need to be extra careful about staying hydrated during the summer months, as the amount of water lost through sweating increases. Keep in mind, however, that you don't need to stick with plain old water to stay hydrated. You can get water through your fruits and veggies… or try some of these recipes for refreshing healthy drinks!
Plant-Based Collagen Booster Margarita
Alcohol and hydration don't really go together - alcohol suppresses your body's antidiuretic hormone, speeding up the process of flushing water out. Not to worry though, this margarita recipe is 100% alcohol-free! Plus, it uses our Plant-Based Collagen Booster, helping your body increase its collagen production for better moisture retention in the skin. 
Ingredients (2 servings):
2 limes
2 cups club soda (plain or flavoured, liked La Croix)
2 tbsp. Plant-Based Collagen Booster
1-2 tbsp. raw honey
2 tbsp. hot water
1/8 cup sea salt
Ice
Directions:
In a shaker bottle, add hot water and raw honey. Stir together.
Add 2 cups of soda water of choice.
Squeeze out juice of 2 full limes. Keep limes peels.
Add lime juice to the shaker bottle with 2 tbsp. of Plant-Based Collagen Booster
Put on lid and shake.
As that sits, use the leftover lime and rim the glass you will use.
Spread out salt on a plate, and rim the glass with salt.
Add ice to the cup, and pour your shaken mixture in!
Add a sprig of basil if you would like.
Mermaid Lemonade
What's better than an icy cold glass of lemonade on a hot summer day? Try this spirulina and apple cider vinegar infused lemonade for a powerful detox effect, lower blood sugar levels, and improved skin appearance! The mermaid vibes are just an added bonus.
Ingredients (4-5 servings):
4 cups of filtered water
1 lemon, juiced
1 tbsp. of apple cider vinegar
1 tsp. agave nectar (or maple syrup)
1/8 – 1/4 tbsp. Organika Spirulina powder
Directions:
Mix all the ingredients together and pour over ice.
Back-to-Balance Reishi Cacao Smoothie
Nothing beats a good morning smoothie! With a dash of reishi powder, this cacao and peanut butter concoction is not only tasty but also full of adaptogenic goodness to reduce your stress. Add it to your morning routine to start your summer adventures off on the right foot.
Ingredients:
1 ripe banana (frozen works well) 
½ cup frozen zucchini (easiest to slice into disks and then freeze or buy pre-frozen)
1 tsp. Organika "Balance" Reishi Powder
1 tbsp. raw cacao powder
1 cup almond milk
1 tbsp. Peanut butter
Optional: a few handfuls of ice
Directions:
Place all ingredients into a blender and mix until well incorporated
Feel free to add more almond milk or a few splashes of cold water to the blender depending on how thick you like your smoothies
Pour into large cup and sprinkle with raw cacao nibs or hemp hearts for extra goodness
Matcha Collagen Latte
Ditch your iced coffee for this healthier alternative, featuring Enhanced Collagen Vitality!  The collagen and matcha combo will help you get a sustained boost in energy and strengthen your joints for an active summer.
Ingredients (2 servings):
2 cups unsweetened almond or other dairy-free milk
2 tbsp. Organika Enhanced Collagen Vitality with matcha
1 to 2 tbsp. coconut butter
1/2 to 1 tsp. Organika Gelatinized Maca powder
Stevia or sweetener of choice to taste
Directions:
Place all ingredients into a blender and mix until well incorporated