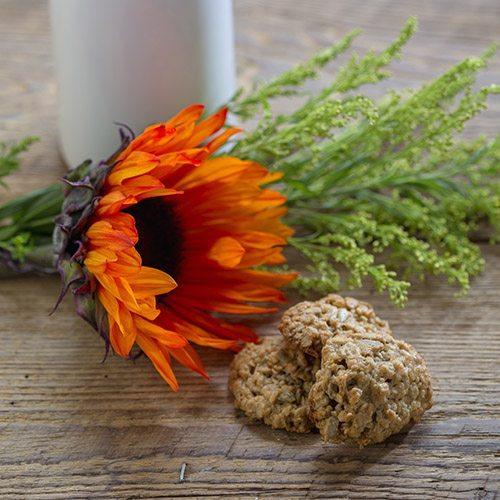 Feeling a little down? Brighten up your day with these delicious Sun Energy Cookies! This recipe is packed with all the nutritious health benefits along with more energy from maca that can lighten your mood!
Why Sunflower Seeds?
You may have snacked on sunflower seeds before, but did you know that these little seeds are rich in essential nutrients that our bodies need? It is an excellent source of Vitamin E, which is a powerful antioxidant that you can find in nuts and seeds!  Sunflower seeds are also known to fight against free radical damage within our bodies and helps boost our cardiovascular health!
Sun Energy Cookies:
Makes 12
Ingredients:
1 cup of sunflower seed butter
½ cup of sunflower seeds
½-¾ cup of honey
1 teaspoon of vanilla extract
1 Tablespoon of Organika Maca + Cacao powder
½ teaspoon of pink Himalayan Sea Salt
Directions:
Preheat oven to 350 F.
Gently combine all of the above ingredients.
Dallop by tablespoon full on a baking sheet.
Bake for 12-15 minutes
Kathy Smart is a registered Holistic Chef and teaches, motivates and inspires others to live Smarter by providing healthy recipes and healthy living tips specific to the gluten-free and wheat-free lifestyle.