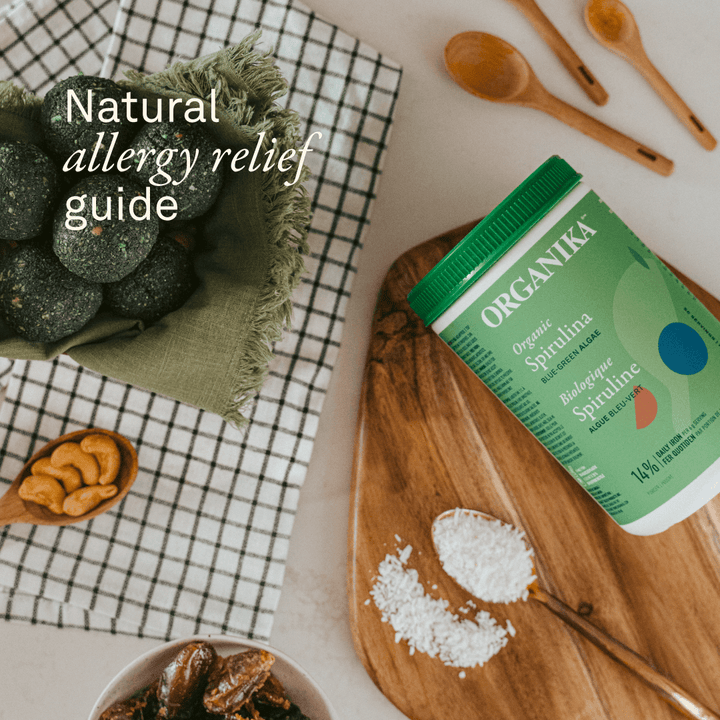 Let's face it: seasonal allergies are the worst! While everyone is gearing up to hit the great outdoors, you're stocking up on tissues. If your springtime routine includes sneezing, watery eyes, an itchy throat or congestion, you know how badly seasonal allergies can affect your life. Learn how to naturally manage your symptoms and breathe freely again!
What are allergies?
Allergies are an inflammatory response from the body. When you encounter something you are allergic to, such as pollen, your body recognizes it as an invader. As a result, your immune system releases antibodies specific to that allergen. These antibodies attach themselves to immune cells called mast cells that trigger the release of histamine. Histamine is the culprit behind your red itchy eyes, the sneezing, or the hives.
The best supplements for natural allergy relief
There are a number of natural remedies that can help stop sneezing fits. Using a combination of supplementation and food as medicine with some minor lifestyle adjustments, you can create a well-rounded holistic routine to get through your allergy season.
Spirulina for natural allergy relief
Spirulina is a type of algae that is often highlighted for its protein and iron content. What many people don't know is that spirulina can also help to relieve symptoms associated with hay fever. Human clinical studies have shown that spirulina relieves symptoms like sneezing, itching, and nasal congestion.
Bone Broth for natural allergy relief
A cup of hot broth provides immediate sinus relief by helping clear a stuffy nose – but that is not all! Bone broth is packed with amino acids that help contribute to healing leaky gut, strengthening your immune system. Organika's Bone Broth line offers a variety of delicious flavours for you to enjoy.
Turmeric for natural allergy relief
Some herbs have incredible anti-inflammatory benefits, and turmeric is definitely a superstar in this category. Turmeric contains a flavonoid called curcumin, which is widely regarded as being excellent at combating inflammation. With Turmeric+, it's quite easy to add a daily dose of curcumin, with added black pepper to help with absorption. Try mixing it into scrambled eggs or using it in your stir-fries.
Bee Propolis for natural allergy relief
Bee propolis is "bee glue" that bees use to keep their hive intact! Just like spirulina, bee propolis has been used for centuries as a remedy for various ailments. Fantastic at fighting inflammation, it's a natural go-to to soothe the scratchy throat that comes with one too many sneezing fits.
Simple lifestyle tweaks to manage allergies
Knowing what time of year seasonal allergens will peak in your area is key when preparing for allergy season. Making minor adjustments in your day-to-day life can help you to avoid contact with allergens during peak seasons.
Try keeping your windows closed when possible during times when allergen levels are highest in the environment.
Avoid outdoor activities on windier days. Wind can increase the number of airborne allergens increasing exposure.
Allergens can follow you indoors on your skin, clothing, and hair. Wash pillowcases and linens often to reduce allergens.
Try an indoor air purifier to help filter air, reducing allergens you are likely to breathe in your indoor space.