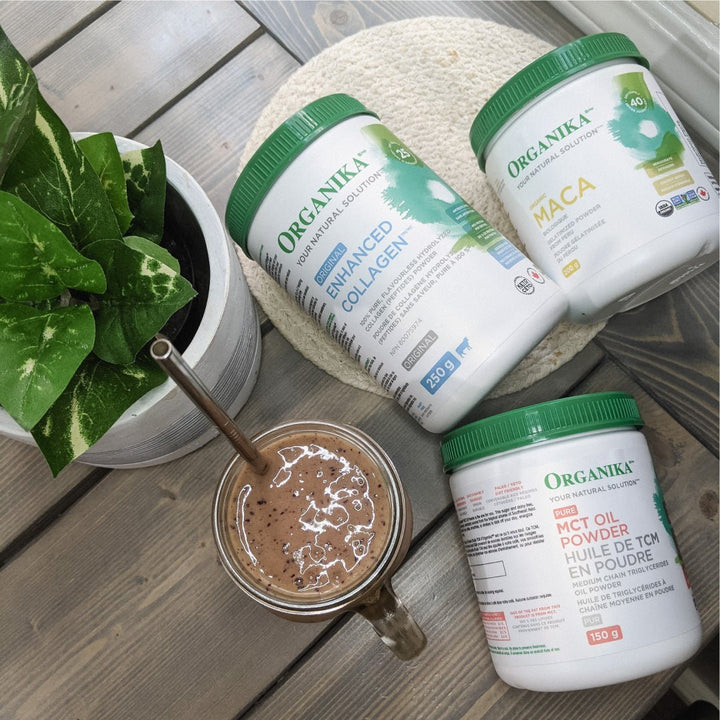 It seems, now more than ever, moms are experiencing burnout, stress, or fatigue. 
However, #momlife doesn't mean that the struggle between sacrificing energy and taking care of the kids, work, and home has to exist. 
It's time to practice much-needed self-care by nourishing your body with elements that can rejuvenate you and give you a much-needed boost. It's important to optimize your own health so that you are equipped to deal with stress better...as stress does affect the body both physically and mentally. 
Here is a run-down of three things you can drink to boost your energy, regain your centre, and recharge. 
Matcha Love For MCT Oil Powder
MCT oil powder, made from GMO-free coconuts, offers medium-chain triglycerides and a clean energy source. MCTs are fatty acids that are easily absorbed and digested, making it a great way to kick off your morning (or combat afternoon slumps). Because fatty acids help produce hormones, regulate blood sugar, and build cells, they are essential for energy and overall health. The boost MCT oil powder gives is instantaneous (due to fast digestion).
Matcha with MCT
Make your matcha as normal (whisking it in hot/warm water). Once whisked, add 3 teaspoons of MCT powder, mix well. Top with frothed coconut milk and enjoy!
Tip: MCT powder works great as a creamer replacement.
Enhance Your Cup of Java with Enhanced Collagen
Collagen is a protein in the body often explained as being the "glue" that holds everything together. With age, collagen production decreases, which results in decreased elasticity,  strength, and tone. Enhanced Collagen provides a powdered form of hydrolyzed collagen to help improve skin, joint, bone, and gut health. By helping maintain so many important functions in the body, collagen is a powerful healthy product to consume daily. When all of your bodily functions feel good, you feel good.
Collagen Coffee
Simply add 2 tablespoons to your morning coffee and let the magic work. For an extra boost, add in the MCT oil powder, as well, to replace the use of a creamer.
Tip: You can add collagen powder to any beverage (tea, coffee, matcha, or smoothie). 
Make A Mid-Day Smoothie with Maca
Maca, hailing from Peru, is a superfood known to support stress levels, emotional states, and supporting hormonal balancing. It is widely used to help with increasing energy levels and stamina as well. It is thought that because it grows in harsh environments and thrives, it passes its strength through to you. The Organic Maca Powder is heated (gelatinized - no relation to gelatin!) so it provides a smooth texture and offers a beautiful chocolatey taste. 
Maca Power Smoothie
Blend together frozen mangoes, blueberries, 1 tsp of maca powder, and 1 cup of coconut or oat milk. 
Tip: You can also add maca to a cup of cocoa or coffee to elevate it.
These three drinks will not only fulfill and sustain your energy but will make you radiate goodness from the inside out.
Go on moms, shine on!