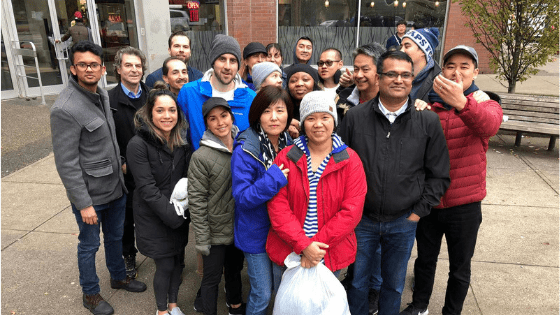 Organika News
Top 5 Ways to Give Back During the Holidays
Rhiannon Lytle
Giving is the reason for the season. Whether it's gifts for family and friends, or giving your time to a cause you care deeply about. It's important to think about others this time of year, and how you can make a difference in their lives.
Here are 5 of our favourite ways that you can give back this time of year:
Volunteer

Donate goods

Set up an office donation program

Offer your services

Buy a stranger a coffee
And what you choose will depend on a few things. When deciding how to give this holiday season, think about these questions:
How much time do I have to give of myself?

What can I financially afford to give?

Can I skip an event, or that fancy dinner and use that time or money for charity?

Can I give things I already own?
Those are just a few questions that we'll answer as we break down the 5 ways to give back during the holidays, including some examples from our own volunteering experience with OrganiGiving!
Volunteering
Volunteering your time toward a cause you care about, is a great way to connect with people on a more personal level. Whether it's with those that you are volunteering alongside, or with those that you are helping. In a world where we're constantly behind a screen, some one-on-one time should always be appreciated.
On November 24, members from the Organika team spent some time on their weekend putting together sandwiches and handing out clothes on Vancouver's Downtown Eastside (DTES)!
"OrganiGiving started as an initiative to give back to our community in our own backyard. The DTES has one of the highest poverty rates in North America, and we wanted to come together as a team to support this area with warm clothing and food. OrganiGiving is a real eye opener for us into how blessed we are to live the lives that we do, and is a great reminder to help those less fortunate than us.
We continue to do this every year as we want to continue living out our mission at Organika to serve, inspire and contribute to everyone's good health. It also makes a great impact in sparking our team to do more in our community. It was really amazing to see that this was our largest group participating in OrganiGiving within the 5 years we have taken part in it!  We are looking forward to actively participating in more great initiatives in the future." - 

Aaron Chin, VP of Sales
Donate Goods
Many of us are trying to live a more minimalist lifestyle, ridding ourselves of clothes, household goods, etc. that we just really don't need! And this is a great reason to get to it! But, if you would better fit an episode of
Hoarders
,
it might be best to start small. Go through your closet. If you barely wore it last season, it's better left for someone else.
This year, the team at Organika donated lightly worn or used clothing to distribute on the DTES, with everything including warm coats, pants, and pyjamas. We had been collecting clothes since the middle of summer and had about 20 large garbage bags full to distribute (trust us, it was heavy!)
"I've donated clothing and given to charity many times. But it's rare that I've had an opportunity to volunteer my time to a cause (that's a lie - I just haven't made the time). I live close to the DTES and regularly drive or bus through the area, always curious as to how, and when, these people's lives had changed so drastically or if this is all they know. Never did I think I would spend time handing out clothes and food. I especially didn't think I would spend time chatting with them and hearing a little about what their lives are like. Building a connection with total strangers who you really don't think you have anything in common with, is life changing. In this way, volunteering can kind of be selfish, because you feel REALLY good after. But this is the good kind of selfish. The one that you know is good for others, and changes lives. I'll definitely be making more time for this in the coming months, and years!" -Rhiannon Lytle, Social Media Specialist & R.H.N.
Set Up an Office Donation Program
Maybe your schedule is already jam packed, and volunteering just can't fit. We get it! Or maybe you volunteer regularly and want to increase your giving this time of year. Why not try an office donation program? Collect anything from used clothes, toys, food, winter-wear, the essentials like new toothbrushes and socks, or even plain old cash.
While we collected used clothing here, we also set up a donation program where we collected money in order to purchase new socks, gloves and hats to hand out.
"I think that it's important to participate in OrganiGiving since those that we give the clothing and the food to can be your own family members or yourself.
It's easy to assume that because they live in conditions different from us and may look different, that they are also different at their core. However, if you talk to people living on the streets, you will learn that many, at some point, lived a life like you or me.
So what that leaves me thinking is that I can be extremely grateful for my support system (family, friends), my general background in terms of education etc. This is mostly luck, though. Giving back through whatever charity (OrganiGiving being one of many) is therefore just a reasonable and necessary thing to do because our team at Organika is in a position to help." - 

Dominik Hofmann, Account Manager
Offer Your Services
Many of us have areas of expertise that can benefit one person, or a whole company. Are you a marketing whiz? Outline a strategy for a small non-profit to help them gain exposure. Maybe you're a handy-man. Find out if that local shelter needs any fixing up.
Buy a Stranger a Coffee
And when all else fails: pay for the coffee of the person standing in line behind you! It only takes a few dollars, and can make their day.
No matter what, there is always strength in numbers. So enlist your best pals, your colleagues (like here at Organika), or family to help you make a difference. This has been one of the best years yet for us, and we can't wait to continue growing OrganiGiving each year.
"I joined and encouraged others to participate in OrganiGiving because I believe in the joy of giving: the gift you give yourself by giving to others. Through the joy of giving, we exercise our mind and soul; to treat others, even the less fortunate, with love and respect. Lastly, I certainly hope that this event serves as a stepping stone for us to better understand, and to be more compassionate to others." - 

Fransiscus Denny (Denny), Marketing Manager
In total, our team provided:
If you want to be involved, we'd love your help! Send an email to CSR@organika.com and we'll be in touch.