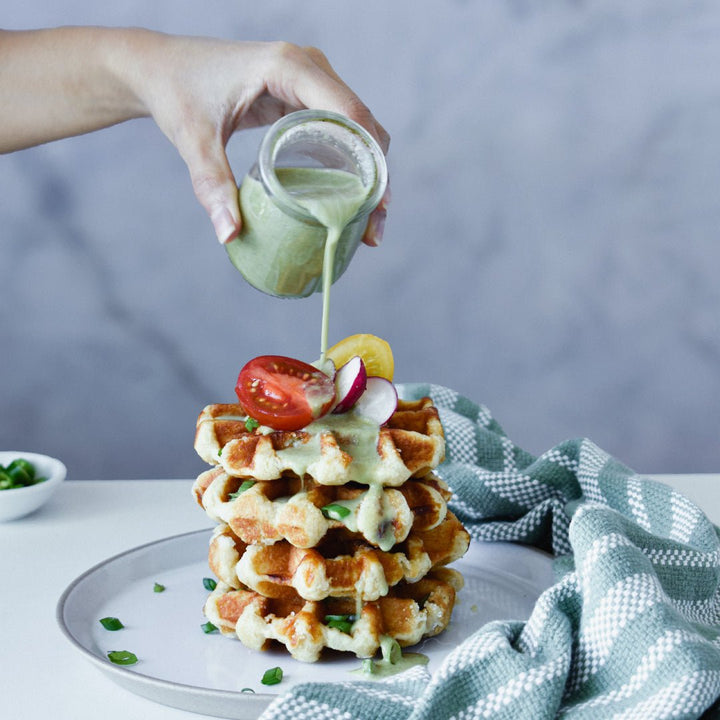 recipes
Vegan Waffles Recipe
Bhumika Mehta
Bring your brunch to the next level with these delicious savoury vegan waffles! For an added nutrition boost, make sure to include our
Veggie Broth powder
- a plant-based source of protein, B vitamins and minerals.
Mexican Style Savoury Vegan Waffles
Ingredients
Waffle batter:
3/4 - 1 1/2 cup all-purpose or spelt flour
1/4 cup cornmeal, wheat flour or oat flour (start small and adjust)
1/2 tsp baking powder
1/2 - 1 tsp onion powder
1/2 - 3/4 tsp smoked paprika
1/2 - 3/4 tsp cumin
1/4 tsp salt and ground black pepper
Up to 1/3 cup fermented spreadable jalapeno lime cashew cheese
Up to 1/3 cup chopped green onion (up to preference)
1/8 cup melted vegan butter or some oil
Approx 3/4 C oat/almond/non dairy milk (adjust)
Salsa Verde Dressing:
4-6 tomatillos, husks removed and quartered
1/2 medium white onion, peeled and chopped
1 garlic clove, peeled
1-2 jalapeños (depending upon preferred spice level) cut in half and stem removed
1/2 bunch cilantro (stems included)
3-5 tbsp avocado or olive oil
1/2 tsp sea salt
You can add Organika's Veggie Broth in either the waffle batter or dressing! Add a small amount in dressing (approx 1 tsp - 1 tbsp powder amounting to 1/3C or less with water) and about 1/2 - 1 1/2 tbsp powder in waffle batter with dry ingredients.
How-to
For the waffle batter, mix in dry ingredients and wet ingredients separately, then combine. Make sure not to over mix but watch out so there are no lumps.
Tip: Always start with tiny amounts of the ingredients and adjust as you go.
Grease your waffle grid with some oil and pour batter in the centre. Cook 5-10 minutess or until crisp and golden or brown.
For the dressing, blend all ingredients (starting with small amounts first) and adjust if necessary, for savour and thickness.
Pour on the waffles along with extra toppings like tomatoes, avocado, green onion and greens like arugula or cilantro if you like.