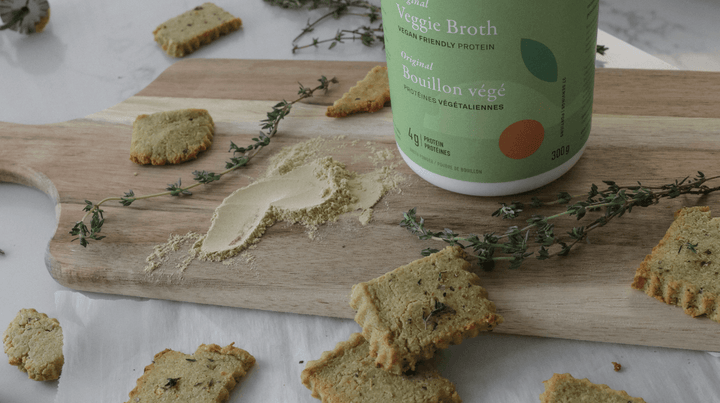 recipes
Veggie Keto Cracker Recipe
Andrea Witthoeft
One unexpected (and very wholesome) benefit of being on lockdown is that many of us are getting super into baking! If you're itching to try a new baking recipe, why not try this crispy keto cracker recipe by our friend Andrea Witthoeft? You got yourself the perfect weekend baking project – now get the cheese board ready and invite your besties for a virtual wine, cheese and crackers party!
Veggie Keto Cracker Recipe
Ingredients
2 tbsp Organika Veggie Broth powder
1 cup almond flour
3 tbsp grass-fed butter (melted)
1 whole egg
1 tbsp fresh garden herbs (optional)
½ tsp sea salt
How-to
Melt butter in a small pot on low heat; Just melted, but not piping hot. Set aside to cool while you mix the flours.
Add veggie broth powder, almond flour, herbs and salt to a medium bowl and whisk thoroughly. Pour in the butter and mix until evenly distributed (I just use my hands!). Add in your lightly whisked egg and continue to knead until it forms into a ball. Cover in cling film and place in the freezer for 5 minutes to solidify the butter.
Roll out the dough between two sheets of parchment paper, sprinkle herbs and lightly roll again to press it in. Trim to desired cracker size and separate gently. The dough is fragile, so I separate the pieces by running a knife underneath.
Bake crackers for 8-12 minutes in your oven at 350 F/180 C until lightly golden (time will vary depending on size and thickness).