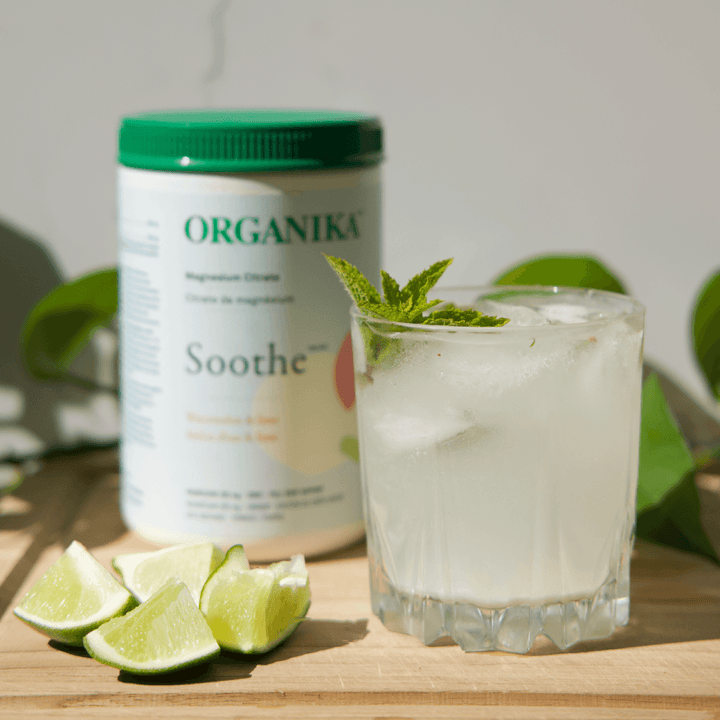 recipes
Watermelon Mint Mocktail Recipe
Justine Blackwell
This refreshing, fizzy mocktail is not only delicious on a hot sunny day, it also packs a nutritional punch. Our Soothe drink mix contains your daily requirements of ionic magnesium, allowing for easy absorption of this vital mineral. Magnesium is essential for energy production, muscle function and can help balance emotional states (think stress reduction!) We've added a little fresh ginger and a squeeze of lime to complement the watermelon-lime flavour. Perfect for a relaxing afternoon hammock session.
Watermelon Mint Magnesium Mocktail
Ingredients
1 tsp Organika Soothe Magnesium Citrate in Watermelon & Mint
1 1/2 cups filtered or sparkling water
3 sprigs of mint, roughly torn
1/2 tsp grated ginger
Squeeze of lime
Garnish: mint leaves
How-to
Start by activating the magnesium citrate: in your serving cup, add Soothe and cover with hot water. Let it fizz.
Now it's mocktail time! Add in cold water and the remaining ingredients.
Give it a swirl and add ice if needed. Top with garnish.
Enjoy!