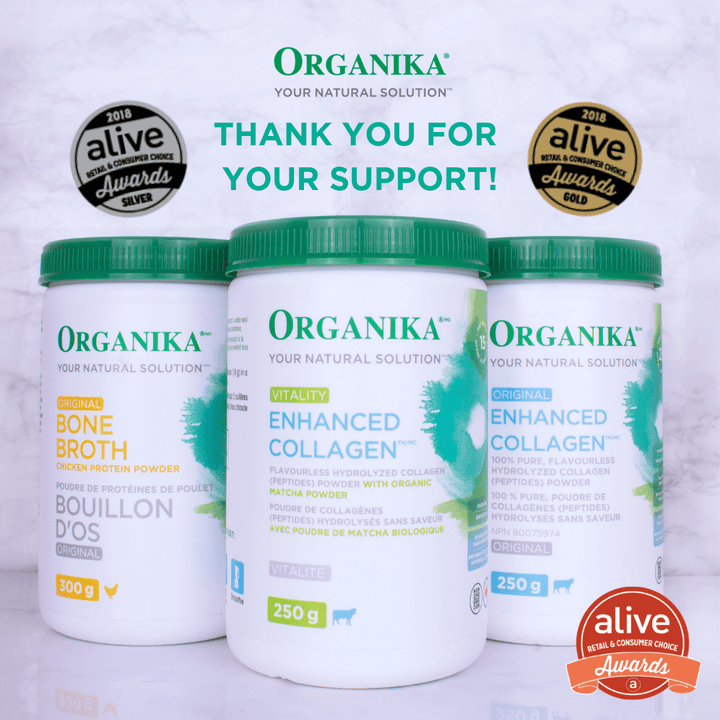 Organika News
We're an Alive Awards Winner (Thanks to you!)
Rhiannon Lytle
We're big believers in celebrating personal accomplishments, especially when we have our amazing customers (a.k.a YOU - yes you, the one who's reading this blog right now!) to thank for it.
Each year,
Alive
asks those in the natural health world to vote for their favourite products. With anything from supplements, to creams, and powders, focusing on areas like joint support, skin health, or cognitive function. And lucky for us, we were nominated in several categories.
And thanks to you, the people that actually use our products everyday and have seen life-changing effects, we had a few wins!
Here's what we won:
New Supplement (Retailer), Enhanced Collagen Vitality:
Gold
Personal Care & Natural Beauty (Retailer), Enhanced Collagen:
Gold (tied)
Personal Care & Natural Beauty (Consumer), Enhanced Collagen:
Gold
Digestive Health (Consumer), Chicken Bone Broth Protein:
Silver
New Supplement (Consumer), Enhanced Collagen Vitality:
Silver
We were up against some strong competition, and local friends! So we're definitely honoured to have been awarded these titles for some of our favourite products.
And next year will be even more exciting! With many new products on the way (have you heard about our Enhanced Collagen MCT Boost yet?!), we know that there is a big year ahead of us.
Thank you, again for all of your support! We are so proud to be a part of this wonderful community of health-minded individuals, and we look forward to growing with you, and for you.
Looking for ways to use some of these products in your everyday life? Check out our blog for some easy tips and tricks!