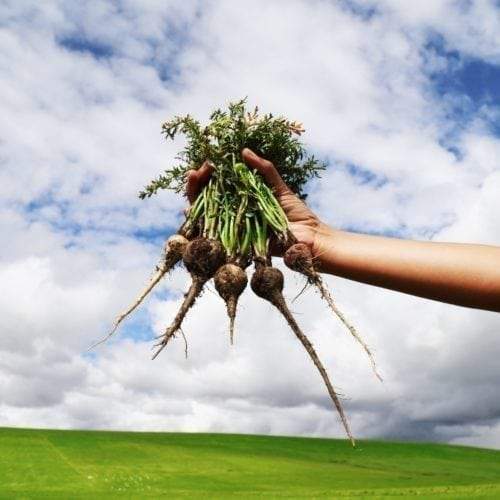 Travel to Peru with us to learn about the maca root
You know those days where it seems like there will never be enough coffee in the world to wake you up or turn your bad mood around? We've been there too. So… have you tried
maca
yet? Maca is a power-packed root that works as an adaptogen to support mood balance, supply you with antioxidants and even promote sexual health to help engage the va-va-voom. We love it! So much so, that we recently went to Peru where it's natively grown to visit the farms that supply Organika® with the maca root powder we use in our
Organic Gelatinized Maca powder
, and
capsule
products.
Travelling to the maca farms
Peru is stunning. Just driving through the winding roads of the Andes Mountains, there's vast countryside, 30-foot aloe plants, golden berry farms, yacón farms, and gorgeous rivers flowing through the mountainside. Maca has been a part of Peruvian culture for a long time. It's found in candies, flours and alcohol all throughout the local shops. There was even a 60-foot statue of a bright purple maca root located in the village of Huayre, on our way to the maca farm. Yep, maca is kind of a big deal there. The farms are based in Junín, Peru. The drive there reaches elevations of 4500 meters above sea level – that's more than twice the elevation of Whistler Mountain in British Columbia! Nearing Junín, the beautiful scent of maca is overwhelming. The scent is reminiscent of chestnuts, with just a hint of caramel.
Growing and harvesting maca root
Maca is the largest export in the region. It has helped grow the city, create jobs and improve the local economy. Only 10 years ago there were about 50 farmers in the region; but today, there's well over 1000. Maca thrives at 4500 meters above sea level, where most plants die. The nutrient rich soil grows the maca root for 1-3 years before cultivating by hand. After harvesting, the nutrients in the soil are replenished for five years, before maca can be replanted in the same place. The maca roots are hand selected, tested for heavy metals, crushed and dried. They then go through an Organic Sterilization System, that uses steam and vacuum to disinfect, pasteurize and sterilize the root. This pasteurization process removes the yeast from the maca, resulting in a gelatinized maca product easier to digest and absorb. The maca is then milled into a fine powder and prepared for export.  
The manufacturing process
When we receive the maca in our manufacturing facilities in British Columbia, we use third party testing for heavy metals, pesticides, microbes, solvent residues and potency. Once everything is manufactured, we send the finished product for a second round of third-party testing for quality, purity and potency. And that's not just maca we're talking about, that's how we handle all of our products. We want you to trust our products so you feel great using them. From there, the power is in your hands.
Make it maca
.