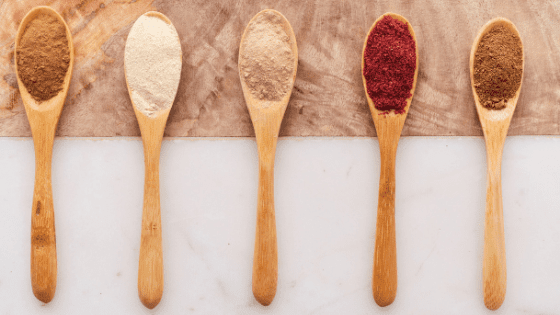 Let's face it, we're pretty stressed. That may mean that we struggle to maintain balance in our over-stimulated and fast-paced culture.
When we are chronically stressed,
our body struggles to keep up with the demands of our life, leading to
illness, mood disorders, physical ailments, and overall poor health. However, what if there was a natural way to better adapt to life's stressors and become more resilient in the face of adversity?
Enter adaptogens! Used for thousands of years in Ayurveda and Traditional Chinese Medicine, adaptogens are plants, herbs and mushrooms that help counteract the harmful effects of stress. C
alled adaptogens due to their unique ability to "adapt" their function according to your body's specific needs, they can help heal a host of health issues or simply help ease stress by bringing the body back into balance (otherwise known as homeostasis).
Why is this important?
In order for our bodies to thrive, we must have a constant internal environment. This means that everything from our body temperature, blood sugar levels, and water content must be controlled and balanced for our cells a
nd bodily systems to function optimally.
When we're exposed to life's stressors our homeostasis is disrupted, and so are the systems of the body.
Adaptogens can help improve our resistance to stress (emotional stress, physical trauma or injury, illness, fatigue, pollution) and normalize our body's functions. This allows us to maintain a more regular state of homeostasis for optimal health.
How do adaptogens work?
Our stress levels and response are controlled by a system of glands called the
hypothalamus-pituitary-adrenal (HPA) axis. The central nervous system helps regulate and normalize the HPA axis to help us better cope with stress.
Adaptogens ease stress response by releasing
Hsp70 and Hsp72 (1)
, which are "stress sensor" proteins. This helps the central nervous system come out of fight-or-flight mode and back into a balanced state.
Without easing our stress response, our bodies can either be over-functioning or under-functioning, often leading to neurodegeneration, chronic inflammation, and even cancer.
The benefits of using adaptogens on a regular basis:
Improved quality and quantity of sleep

Boosted energy (without the crash you get from caffeine)

Improved emotional well-being and resiliency

Increased concentration and cognitive function

Balanced stress and sex hormones

Normalized digestive functioning

Strengthened immune system
Increased detoxification and liver health
Stronger resistance to stress
Start by adding your favourite adaptogen into your morning smoothie and observe the improvements you may feel. Remember, adaptogens can help make lasting changes to your health, but it won't happen overnight. When you stay consistent, keep up with your self-care practice, and make small, sustainable changes you can create your healthiest, most joyful lifestyle.
Learn more about our adaptogens