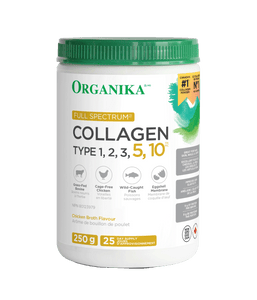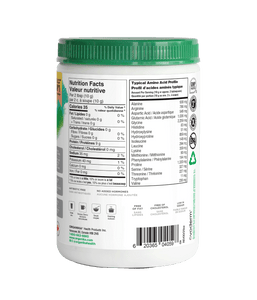 Gluten-free
Non-GMO
Caffeine-free
No preservatives
No artificial colours or flavours
No artificial sweeteners
Keto Friendly
From Grassfed Pasture-Raised Cattle
Dairy-free
Egg-free
Soy-Free
From Canadian Fish
Sustainably Sourced
Enhance Your Routine
9 g protein / serving
Great for skin, hair, nails and joints
Improves skin elasticity
Source of 5 major collagen types needed by the body
Source of 18 different amino acids, including Tryptophan
Collagen is a vital protein that plays a role in many aspects of overall health and wellness. Your body has 28 different types of collagen, but the more predominant types are 1, 2, 3, 5 and 10.

Most collagen benefits are covered by types 1, 2 and 3. However, there is collagen found in part of your body. If you want to maximize your support, taking Organika's Full Spectrum Collagen 1, 2, 3, 5,10 is as close as you can get.

What's new in this blend?

Our type 5 & 10 collagen comes exclusively from Ovoderm®, a powerful science-backed branted ingredient based on eggshell membrane which is known to stretch beyond the common collagen benefits. Type 5 collagen is found in the cornea of the eyes, some layers of skin, hair and tissue of the placenta, while type 10 supports bone formation. As an added bonus, Ovoderm® contains hyaluronic acid and elastin, providing holistic beauty care in one single ingredient.

BOVINE COLLAGEN - TYPE 1 & 3

Organika Bovine Collagen is sourced from North American grass-fed cows, raised free from hormones and antibiotics. Bovine Collagen provides a clean type 1 and 3 collagen, giving you supple skin, thick hair, strong nails, healthy joints, as well as supporting a healthy digestive tract.

MARINE COLLAGEN - TYPE 1

Organika Marine Collagen is sustainably sourced from Codfish, providing clean type 1 collagen free from hormones and antibiotics. The type 1 collagen in Marine collagen also supports fuller hair, stronger nails, and youthful skin.

CHICKEN BONE BROTH - TYPE 2

Organika Chicken Bone Broth is sourced from cage-free chicken cartilage, raised free from antibiotics and hormones. Chicken Bone Broth is naturally high in type 2 collagen, as well as hyaluronic acid (HA) and glycosaminoglycans (GAGs). Type 2 collagen helps build strong joints and connective tissues.

EGGSHELL MEMBRANE – TYPE 5 & 10

Sourced from Ovoderm Natural Eggshell Membrane, it is naturally high in type 5 and 10 collagen. Both of which have been studied to provide excellent support to skin health including increasing elasticity, firmness and reducing water loss in the dermis.
These Products Might Be Great For You Too
Full Spectrum Collagen
Multi-Sourced Collagen Powder
Enhanced Collagen Original
Regular price

From

$32.49
100% Pure Hydrolyzed Collagen
2 sizes available
Enhanced Collagen Bone & Joint
Hydrolyzed Bovine Collagen Powder with Glucosamine, Chondroitin and MSM