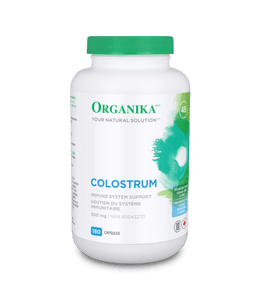 Clean, All-Natural Formula
Sourced From Grass-fed, Pasture-raised Cattle
Non-GMO
No Added Hormones
Antibiotic-Free
Gluten-Free
Enhance Your Routine
Immune system support
Support immune function within the upper respiratory tract
Source of calcium
Involved in the growth and repair of bones, connective tissues and muscles
Colostrum is the first milky fluid produced by lactating mammals immediately following their offspring's delivery. Organika's Bovine Colostrum is the milky fluid that comes from free range cows, free from all growth hormones. Colostrum is rich in proteins, carbohydrates, fats, vitamins, minerals and antibodies that fight disease-causing agents such as bacteria and viruses in the body.

Breast milk, including human and bovine milk, contain many factors that are involved in immune development. In the first year of life, infants are developing their immune system. At birth, their immune systems see anything that is not itself as foreign, so the first year or two of life is an essential time of programming the immune system. It gets taught what is safe to allow in, and what is best to attack.

Colostrum contains various compounds to help with infant's immune development and growth. Immunoglobulins, prebiotic oligosaccharides, extracellular vesicles, antimicrobial proteins and immunomodulatory cytokines can all be a part of this important development. Human and cow milk are quite similar in these components.
Customer Reviews
Write a Review
Ask a Question
06/04/2022
catherine w.

CA
Sorry, but it's too early
Sorry, but it's too early to tell. I will know more in a month or two.
06/21/2021
Krystyna

CA
Colostrum
I take Colostrum to strengthen the immune system. I am healthy. Krystyna
These Products Might Be Great For You Too
NAC (N-Acetyl-L-Cysteine)
Regular price

From

$27.99
Amino Acid for L-glutathione Replenishment
2 sizes available
L-Glutathione
Regular price

From

$20.99
Antioxidant From Fermented Non-GMO Torula Yeast
2 sizes available
Black Cumin Seed Oil
Regular price

From

$25.99
Cold-Pressed Nigella Sativa Oil
2 sizes available