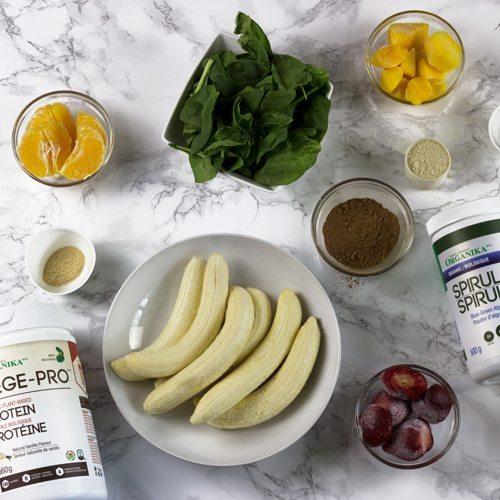 Eat + Drink
3 Make-ahead Frozen Smoothie Packs for Easy Breakfasts
Organika Health Products
Frozen smoothie packs to help you save time in the morning
When life gets busy, meal prep is a non-negotiable when it comes to keeping your health on track. That means
breakfasts ready to go
, lunches prepped to pack, and dinners planned for tired evenings. These frozen smoothie packs can help you cross breakfast off your list for the entire week. We made smoothies even easier for those days you only have 3 minutes to spare in the morning. Just toss the contents of your smoothie mixes into the blender, add your milk of choice, and blend it up. Make-ahead smoothies for the win.
How to prepare your frozen smoothie packs
You will need:
Resealable plastic freezer bags for storage (as many as you want to make!)
A permanent marker to label and date your smoothie mixes
Instructions:
Lay out your bags, and label according to the recipe your making prior to filling. Once you've done that, it's time to start prepping your fruit.
Cut your fruit into chunks for easier freezing and blending. You can use prepackaged frozen fruit or fresh fruit in your smoothie packs.
Measure out your servings into bags.
Add any superfoods you want in your smoothie. We love spirulina, maca powder, and protein powder.
Put your pre-made smoothie blends into the freezer until you're ready to use them.
3 Make-Ahead Smoothie Recipes to Get You Started
Energizing Chocolate Maca Smoothie
Serves 1
Ingredients
2 organic bananas (frozen for a creamier smoothie)
2-3 tbsp organic raw cacao
1 tbsp organic shredded coconut
1/2 tbsp of Organika® Organika Maca Powder
1 tbsp organic smooth peanut butter (unsalted)
Strawberry Pink Protein Smoothie
Serves 1
Ingredients
Alkalizing Green Smoothie
Serves 1
Ingredients
1 banana
1 cup chopped mango
A handful of spinach
Directions for making your smoothie with pre-made packs:
Empty your frozen prepped ingredients into your blender.
Add 1 to 1 ½ cups of almond milk (or milk of choice) depending on your desired thickness.
Blend until combined.
Pour into a cup, garnish, drink and enjoy!
  Breakfast couldn't get any easier.  
What's your favourite smoothie combo?