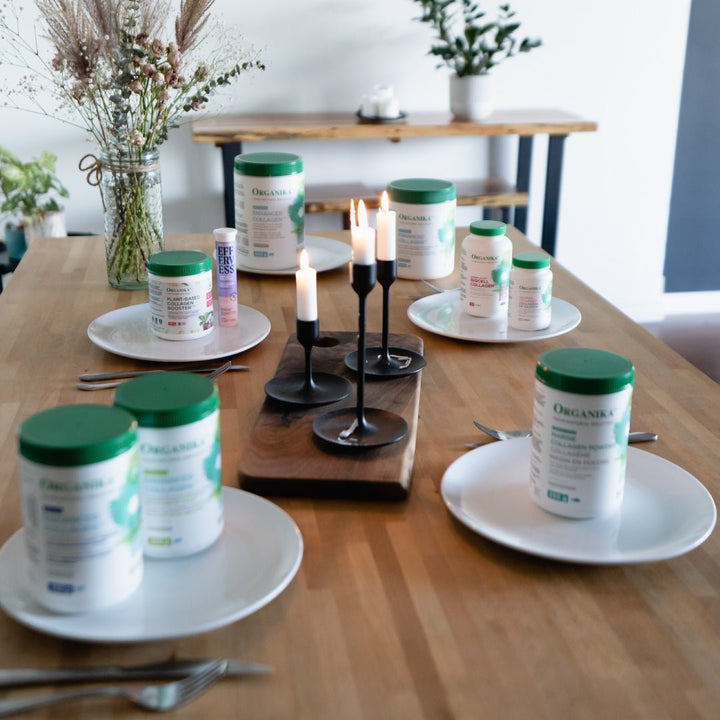 There is something about this time of the year where you start to hunker down, get the home settled, and start to bring out the cozy fleece even if it's still with shorts and knee-high wool socks. 😉
With the fall wool comes tinkering around the kitchen for cozy recipes, DIY floral arrangements, and candle lit nights in. It's a time brimming with ideas for new healthy habits, goals, and stillness for the present. This time of the year always gets me dancing with gratitude for life's beautiful gifts such as love, family, friends and togetherness, no matter how that may be.
With social distancing being the current norm, there is no shying away from how we are having to go about with these times. Here are some ways you can make your Thanksgiving long weekend memorable, tasty and healthy in the new normal.
Amp up your eats
I like taking the week to prepare some tasty treats and place them in the freezer for the days to follow - they're also tasty frozen and dipped into a hot cup of comfort! 
To make your coffee, PSL or hot cocoa not only tasty but shining with health benefits, try adding: 
We all have that go-to recipe from our great great grandma Jo that is THE BEST ever. So why not change things up with a boost of healthy additions to make each bite rich in healthy fats and clean protein? Keep scrolling for my go-to: these gooey cookies will allow you to glow from the inside out and are totally kiddo approved!
Seasonal Décor 
Thanksgiving long weekend is the one weekend that there is a dynamic change in the colours of the leaves and flowers turning from petals to stems. The beautiful muted colours offer endless ways to explore some fun crafts with the kiddos or create your own special oasis at home. 
Some ways that you can embrace the colder temperature and golden ecosystem is by making what my mom and I used to call stained glass leaves for a fun DIY craft. It's the perfect excuse to get outside for a walk while creating memories with your family. 
If you are looking to spruce up your kitchen table or elevate your at-home fall feeling, head over to the local market for some eucalyptus, filler (such as baby's breath), and one other stem that gives you gratitude (I like dusty pink spray roses) and be sure to pick up some branches along the way (don't take your neighbour's single sunflower! lol). My top three tips to make the perfect floral arrangements: 
Cut your rose stems under water (keeps them lasting longer)

Always have a clean vase and fill it 3/4 of the way to help give more oxygen to the stems

Always cross your stems to make an upside-down cone to help the arrangement stand up
Togetherness & gratitude
There is nothing more special than being grateful and giving thanks to those who you love. This year, with the global pandemic changing how we mingle with friends and family, it is important to think of it as an opportunity to embrace a new and meaningful way of showing gratitude. 
Time is something we often forget about sharing and can be one of the most thoughtful gifts to give. When we take the time to create something for each other, such as writing a note, making your legendary recipe to share, dropping off some flowers or even FaceTiming someone to check in and express your gratitude for them. 
I have learned that time is something so valuable and often overlooked as a way of giving. These times have not been all roses and golden moments, but we all have the gift to adapt and elevate how we enjoy these special holidays.
Thanksgiving Collagen Cookies
Ingredients
1 cup butter (room temp)
1 cup cane sugar
1/2 cup brown sugar
1 egg
1 tsp vanilla
1 1/2 cup flour
1/2 tsp cinnamon
1 tsp baking soda
1 tsp baking powder
1/4 cup Enhanced Collagen powder
1 1/2 cup oats
3/4 cup shredded coconut
1 cup chocolate chips
1 cup dried cranberries
How-to
Preheat oven to 350 F
Line 2 cookie sheets with parchment paper
Cream the butter, sugars, egg and vanilla together
Sift the flour, cinnamon, baking soda, baking powder and collagen powder into a separate bowl
Beat the dry and wet ingredients together
Stir in the oats, coconut, chocolate chips and cranberries
Drop onto lined baking sheets
Bake for about 12 min
Let cool and enjoy!