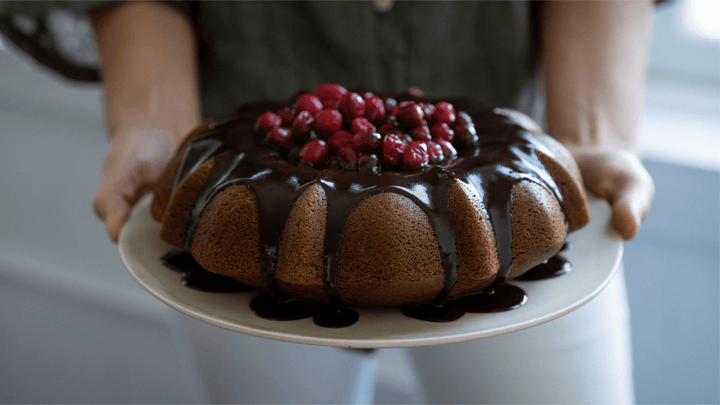 Recipes
Gingery Bundt Cake with Maca Cacao Glaze
Karolina Gnat
Looking for a baking project to warm you up? This maca glazed cake recipe by our friend
Karolina Gnat
brings cake to a whole new level of deliciousness - with energy-boosting maca and antioxidant cacao as a bonus. Truly the best of both worlds!
Gingery Bundt Cake with Maca Cacao Glaze
Ingredients
Dry
2 ½ cups spelt flour
2 tbsp ginger powder
1 tbsp cardamom powder
2 tsp cinnamon
½ tsp cloves
½ tsp nutmeg
2 tsp baking powder
1 tsp baking soda
½ tsp sea salt
Wet
2 eggs
1 cup maple syrup
1 cup almond milk
½ cup butter, melted
2 tsp vanilla
Glaze
¼ cup coconut oil
2 tbsp Organika Maca Cacao powder
2 tbsp cacao powder
3 tbsp honey
½ tsp vanilla
Oat milk to thin, if needed
How-to
Preheat oven to 350 F. Lightly oil a Bundt cake pan with coconut oil.
Combine the dry ingredients in a large bowl.
In a separate bowl, whisk the eggs. Then, add the almond milk, maple syrup, butter and vanilla; whisk to combine.
Pour the wet ingredients into the dry ingredients and thoroughly combine, using a spatula.
Pour into a Bundt cake pan and bake until a toothpick inserted in the center of the cake comes out clean (approximately 55 mins).
Meanwhile, melt the coconut oil in a small saucepan over medium-low heat. Add the cacao powder, Maca Cacao powder, honey and vanilla; whisk to combine. Keep whisking until glaze thickens.
Add the oat milk, 1 tbsp at a time until you reach your desired consistency.
Remove the cake from the oven and allow to cool completely before pouring the glaze over top.