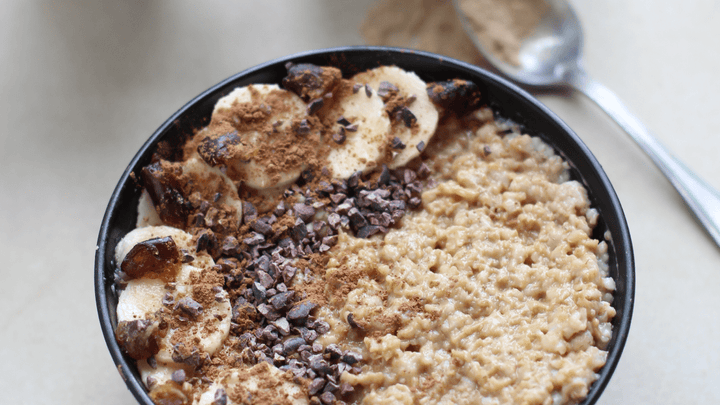 Recipes
Adaptogen Mylk Latte Oats
Meg de Jong
Support your body with whatever it needs to get through the day with these adaptogen oats! This mix is great at helping to balance hormones, reduce stress,  improve energy levels, and promote a general sense of well being. There's also a sprinkle of cacao to this recipe for your daily dose of antioxidants. And let's be honest, who doesn't love some form of chocolate for breakfast!
Ingredients:
½ cup whole rolled oats 1 cup water ½ Tbsp. Organika Adaptogen Mylk Latte Powder ¼ tsp. cinnamon 1 tsp. raw cacao powder and/ or cacao nibs 1 date chopped into pieces Sliced banana
How to:
Place oats and water in a small pot on stove top with lid on. Cook on medium heat until boiling. Once boiling, remove lid and stir frequently until water and oats are well combined. Remove from heat and place in a serving bowl. Add Organika
Adaptogen Mylk Latte Powder
, mixing throughout oats. Add all other toppings and assemble to your liking.
Learn all about what makes oats an amazing breakfast food here!
Meg De Jong is a Registered Holistic Nutritionist located on Salt Spring Island. She has a passion for growing, cooking and baking delicious food! Follow Meg on 
Instagram
, or check out her 
website
.