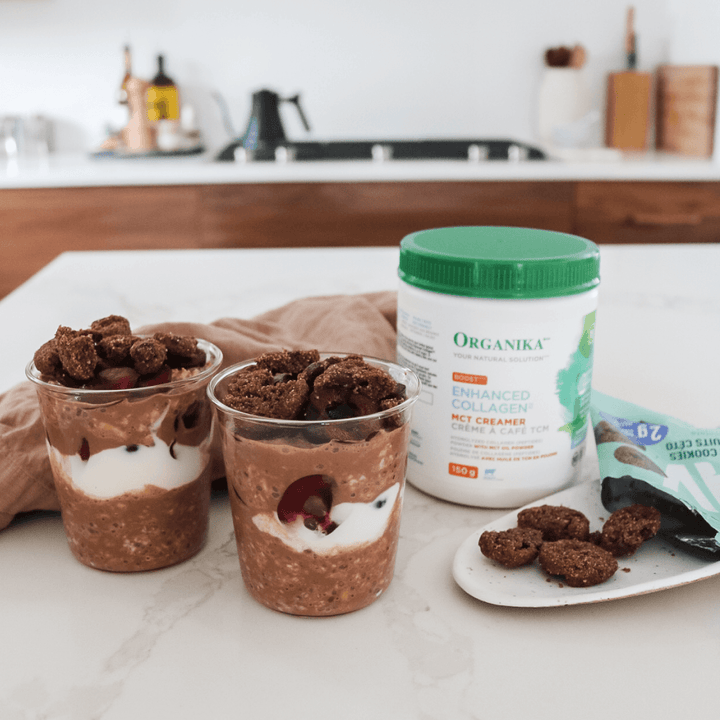 recipes
Black Forest Overnight Oats Recipe
Karolina Gnat
As a nutritionist, I can confidently say that chocolate is an absolute staple in my diet. I indulge almost daily. I never have any guilt about this because I know all the beneficial minerals and antioxidants that good quality dark chocolate contains.
In addition to my daily dark chocolate square, I also like to incorporate cocoa powder in my recipes too. Cocoa powder delivers that rich chocolate taste, and contains minerals and antioxidants that may improve glucose and inflammation.
Cocoa powder is a lower calorie and lower carb option compared to solid chocolate. A tablespoon contains only 12 calories, less than1 gram of fat, 3 grams of carbohydrates and almost no sugar. One tablespoon also contains:
Nearly 10% of the Dietary Reference Intake (DRI) of

iron

for men, and 4% for women

Between 4-6% of the DRI for

magnesium

and

phosphorus

2 grams of

fiber
Fiber is important because it slows down the absorption of sugar, which makes cacao powder a better option for a lower blood sugar rise, than solid chocolate. Cocoa also contains polyphenols called 'flavanols', which are naturally occurring antioxidants that are critical for decreasing inflammation.
This healthy breakfast recipe contains cocoa powder and Organika FÄV Keto Mini Cookies, which contain only 1 gram of sugar for the entire package! Enjoy a hassle free morning by prepping this recipe the night before. It's the perfect hot, summery morning meal.
Black Forest Overnight Oats
Ingredients
¾ cup rolled oats
1 cup milk or milk alternative
¼ cup greek yogurt
1 tbsp chia seeds
1 tbsp cacao powder
1 tbsp Enhanced Collagen Boost
1-2 tsp maple syrup
1 mini bag (30 g) of FÄV mini cookies
Sliced cherries
How-to
Add the oats, milk, yogurt and chia seeds together in a glass jar; mix together, then cover and refrigerate overnight.
In the morning, fold in the cacao powder, collagen, and maple syrup. Add the sliced cherries and as many FAV cookies as you'd like. You can also add more yogurt or milk if desired.
Tip: layer the oat mixture with yogurt, cherries and cookies in a glass or jar for a pretty presentation!