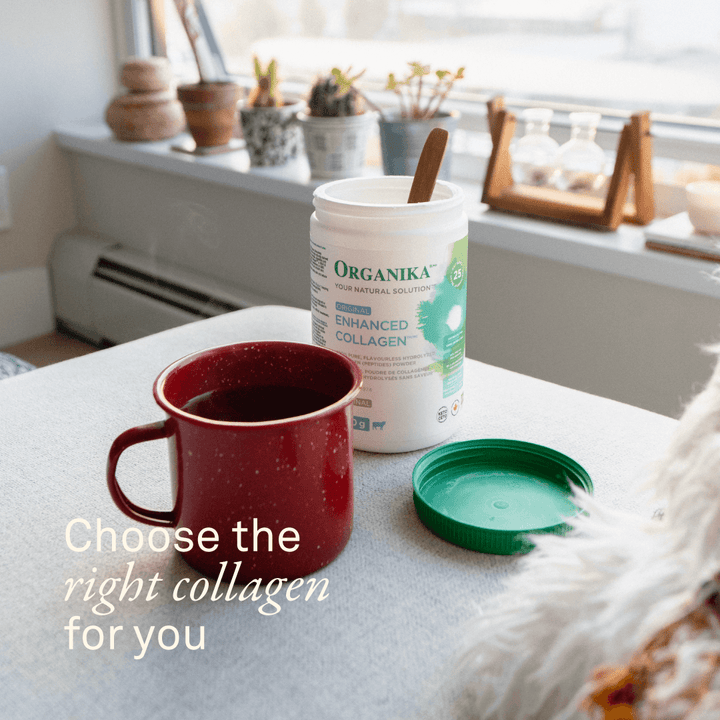 Collagen comes in many different varieties – it is, after all, the most abundant form of protein in our bodies! In this article, we'll explore the three main types of collagen, their benefits, and how to choose the best one for you! 
Are there different types of collagen?
There are three main types of collagen that are found in the body: types 1, 2 and 3 – yes, it's that simple! These 3 make up to 80-90% of collagen in the human body. While consuming any collagen is great for you, each type can provide different benefits to your body.  
Collagen type 1
Type 1 collagen is what we see in bovine collagen and marine collagen, and was named "Type 1 collagen" because it was the first collagen structure to be isolated and identified. Commonly, type 1 collagen is seen as the beauty collagen, and it is even nicknamed the fountain of youth!  
Collagen type 2
Chicken collagen is rich in type 2 collagen. This type is typically shown to best support joint health and reduce pain and inflammation because it is the main form of collagen found in cartilage. Current studies are looking at the benefits between type 2 collagen use and reduced rheumatoid and osteoarthritis pain. 
Collagen type 3
This collagen is commonly found with type 1 collagen, as we see in bovine sources and is found in hollow organs like blood vessels, the uterus, and our bowels. 
How to choose the best collagen for me?
The two key factors to think about when purchasing a collagen supplement are:  
What are my dietary preferences (i.e., pescatarian or vegan?)

 

What is my goal in using collagen?

 
If you are pescatarian or vegetarian/vegan, your decision is made quite easily for you as you'll be utilizing a marine collagen or a combination of vitamins and amino acids that can help with your body's natural production of collagen, like those in our Plant-based Collagen Booster. 
If you don't have any dietary restrictions, then it's about understanding what exactly you'll be using your collagen for. Is it for better hair growth? Joint support? Gut health? 
Let's break it down.  
What is the best type of collagen for hair growth?
Fish-based collagens are typically best for beauty support, including hair, skin, and nail health. This is because it contains type 1 collagen and its small molecular size makes it the most readily absorbed by our body.  
Salmon collagen has two major benefits. First, it is sourced from salmon skin, a rich source of type 1 collagen that is easily absorbed by the body. In addition, salmon is high in omega-3 fatty acids, which are important to help reduce inflammation. Some conditions where we see hair loss or thinning hair are also associated with higher levels of inflammation.  
Marine Collagen powder is another excellent source of highly bioavailable type 1 collagen, the beauty collagen. In one study that used an oral combination of marine collagen, hyaluronic acid, and horsetail (found in our Hair Plus™), participants with perceived thinning hair saw an increase in hair growth. 
What is the best type of collagen for skin?
Enhanced Collagen™ Vitality combines matcha powder with our Enhanced Collagen™ powder to provide a double dose of skin support through collagen supplementation, and antioxidants to reduce free radical damage. Green tea, where matcha comes from, has been shown to be an excellent source of plant polyphenols that can help to protect the skin.  
What is the best type of collagen for joints?
Biocell™ collagen combines type 2 collagen from chicken, hyaluronic acid, and chondroitin sulfate to support your joint health. Hyaluronic acid works to keep the space between your bones lubricated and reduce pain, while chondroitin sulfate is found in cartilage. 
Full Spectrum™ Collagen combines types 1, 2 and 3 collagen from marine, bovine, and chicken sources.  
What is the best type of collagen for gut health?
Enhanced Collagen™ Original naturally contains the amino acid glutamine, which is known to support our intestinal walls and reduce intestinal permeability. As a bovine source of collagen, Enhanced Collagen™ contains both types 1 and 3 collagen, which have been shown to be abundant in our gut.  
Enhanced Collagen™ Relax can be optimal for the person who deals with extreme amounts of stress that affect the gut. L-theanine can help with glutamine metabolism. As well, Magnesium Bisglycinate is commonly used for its effects on stress, anxiety, and sleep, all of which can have a significant impact on our gut health.  
Is collagen suitable for vegetarians?
Plant-based Collagen Booster™ is Organika's answer for vegans and vegetarians looking to increase their body's collagen, without ingesting animal products. Our bodies naturally make collagen on its own, however supplementing is beneficial because our collagen production starts to slow down after the age of 25.  
Vegetarians and vegans can support their own collagen production by ingesting higher doses of vitamin C, as well as a variety of amino acids. By utilizing supplements that do this work for you, like with Plant Based Collagen Booster, you can support your body's natural collagen production.  
References
Lodish H, Berk A, Zipursky SL, et al. Molecular Cell Biology. 4th edition. New York: W. H. Freeman; 2000. Section 22.3, Collagen: The Fibrous Proteins of the Matrix. Available from: https://www.ncbi.nlm.nih.gov/books/NBK21582/
Prabhoo R, Billa J. "Undenatured collagen type II for the treatment of osteoarthritis: a review." International Journal of Research in Orthopaedics, vol, 4, issue 5, pp. 684-689. Sept. 2018. Available from: https://www.ijoro.org/index.php/ijoro/article/view/798/0
Crowley, D et al. "Safety and efficacy of undenatured type II collagen in the treatment of osteoarthritis of the knee: a clinical trial." International journal of medical sciences vol. 6,6 312-21. 9 Oct. 2009. Available from: https://www.ncbi.nlm.nih.gov/pmc/articles/PMC2764342/
Kuivaniemi H, Tromp G. "Type III collagen (COL3A1): Gene and protein structure, tissue distribution, and associated diseases." Gene vol. 707 (2019): 151-171. Available from: https://www.ncbi.nlm.nih.gov/pmc/articles/PMC6579750/
Liu A et al. "Effects of l-theanine on glutamine metabolism in enterotoxigenic Escherichia coli (E44813)-stressed and non-stressed rats." Journal of Functional Foods, Volume 64, 2020. Available from: https://www.sciencedirect.com/science/article/pii/S1756464619305948
Abbasi B et al. "The effect of magnesium supplementation on primary insomnia in elderly: A double-blind placebo-controlled clinical trial." J Res Med Sci, 17(12):1161-9, Dec 2021. Available from: https://pubmed.ncbi.nlm.nih.gov/23853635/