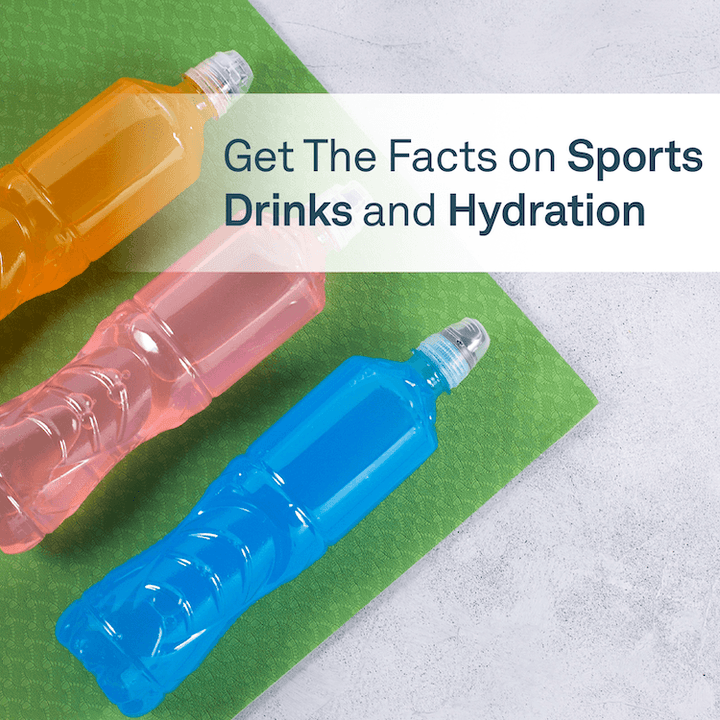 Are all sports drinks supporting your hydration needs and should you be using them?
The terms "sports drinks" and "electrolyte drinks" are often used interchangeably, but there can be some differences in their composition and intended use.
Sports Drinks
Sports drinks are beverages specifically formulated to replenish fluids, electrolytes, and carbohydrates during or after intense physical activity or prolonged exercise. They are designed to provide hydration, energy, and electrolyte replacement to support athletic performance. Sports drinks typically contain a mix of water, electrolytes (such as sodium, potassium, and magnesium), carbohydrates (usually in the form of sugars), and sometimes vitamins.
The key thing to note is that there most often is sugars in these drinks, which counteracts them being necessarily "healthy."
This is why many sports drinks are not often recommended by nutritionists, due to added sugar and added calories. Excessive consumption can have negative health effects, especially for individuals who are not engaging in intense physical activity.
Electrolyte Drinks
Electrolytes, on the other hand, refer to beverages that primarily focus on replenishing electrolytes and maintaining fluid balance. They may or may not contain significant amounts of carbohydrates.
Electrolyte drinks can be used in various situations, including rehydration after physical activity, management of dehydration due to illness (such as diarrhea or vomiting), or simply to maintain electrolyte balance in everyday life.
Electrolyte drinks typically contain a blend of electrolytes such as sodium, potassium, magnesium, and sometimes calcium. They may also include flavours or additional ingredients for taste.
What they don't tell you
It's worth noting that the specific composition and effectiveness of sports drinks and electrolyte drinks can vary among brands and products. It's important to read the labels and choose products that align with your specific needs, whether it's supporting athletic performance or replenishing electrolytes in other contexts.
Just because a product has one or two ingredients in it which are important after a workout, we must look at the whole product. Look at the amount of sugar and food colouring in sports drinks.
Bottom line: Avoid sports drinks because what you really need to replenish are electrolytes – so opt for those!
Discussing your needs with a nutritionist is a great start if you are unsure.
Your questions about sports drinks vs. electrolytes answered
Do you need electrolytes for fitness/athletics?
The need for electrolytes for fitness or athletics depends on many factors. However, anyone exercising and sweating even just a little bit needs electrolytes. Most people are already deficient in electrolytes and use only water to hydrate. Organika's Electrolytes are safe enough for daily hydration no matter the activity level... and they contain 0 g sugar.
Are specific electrolytes important?
All electrolytes are equally important for maintaining proper electrolyte balance. The primary electrolytes lost through sweat are sodium, potassium, calcium, and magnesium.
Each of these minerals plays a unique role in the body, such as regulating nerve and muscle function, maintaining fluid balance, and supporting energy production. The actual individual electrolytes may depend on the individual's needs. For example, a long-distance runner or someone participating in hot yoga will need a higher amount of sodium as we lose more sodium by sweating than other electrolytes.
When should you consider Electrolytes Extra Strength?
The need for Electrolytes Extra Strength depends on the individual needs, activity level, and if they are in a hot or humid environment.
Electrolytes Extra Strength would be suitable for those who are going on a hike on a summer day, a long-distance runner, or someone taking a hot yoga class.
Every day Electrolytes, are for most people. They are a balanced blend of Electrolytes. These can be great for individuals who are looking to replenish electrolytes and stay hydrated. These may be suitable for those exercising, coming back from an illness or just looking to stay well hydrated.
Learn more: The Science of Electrolytes
This article has been reviewed and approved by Registered Holistic Nutritionists Stephanie Lannon and Joleen Gruber