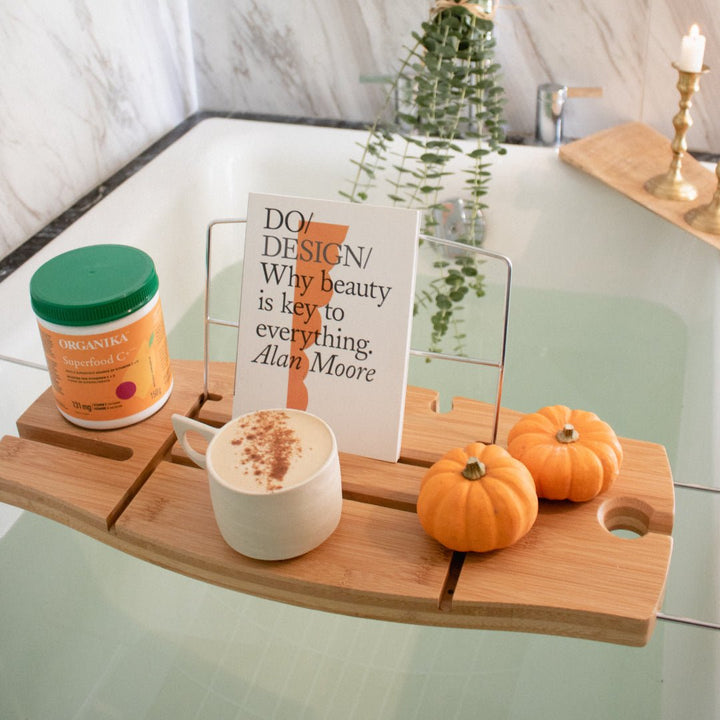 recipes
Immunity-boosting Pumpkin Spice Latte
Karolina Gnat
Hold on to your hats, pumpkin lovers! With pumpkin spice season on full blast, we are so very thrilled to share this recipe. Our friend Karolina Gnat reveals the secret to being your own barista and crafting delicious immunity-boosting PSLs all season long: making your own pumpkin butter! Infused with our vitamin-rich Superfood C+ blend, this pumpkin butter can serve as a base for baking recipes, be used as a spread, or to add that cozy fall feel to any warm drinks.
Vitamin C Pumpkin Butter + Pumpkin Latte
Ingredients
Pumpkin Butter
1 cup pumpkin puree
1 tbsp maple syrup
1 tbsp coconut sugar
1 tsp pumpkin spice
1 tsp Superfood C +
1 tsp vanilla
Pinch of salt
Pumpkin Latte
1 tbsp pumpkin butter
Splash of boiling water
1 tbsp coconut oil
1 coffee
¼ cup almond milk
1 tbsp Enhanced Collagen powder
Sprinkle of cinnamon
How-to
Pumpkin Butter
Add all ingredients to a small saucepan on medium heat and stir to combine together.
Once it starts to bubble, reduce heat until you get a frequent bubble that is not too vigorous.
Stir frequently for 15 minutes. You'll notice it starting to thicken and stick to the bottom of the saucepan; keep stirring.
Remove from heat and let it cool before you transfer to a glass jar. Use this butter on loafs, oats, or baked goods... or make a delicious pumpkin latte!
Pumpkin Latte
Add pumpkin butter, water, coconut oil, and coffee to blender. Blend for 15-20 seconds. Pour into your favourite mug.
Add almond milk and collagen powder to blender. Blend for 15-20 seconds. Pour over the coffee.
Sprinkle with cinnamon or a pumpkin spice blend.
Enjoy!