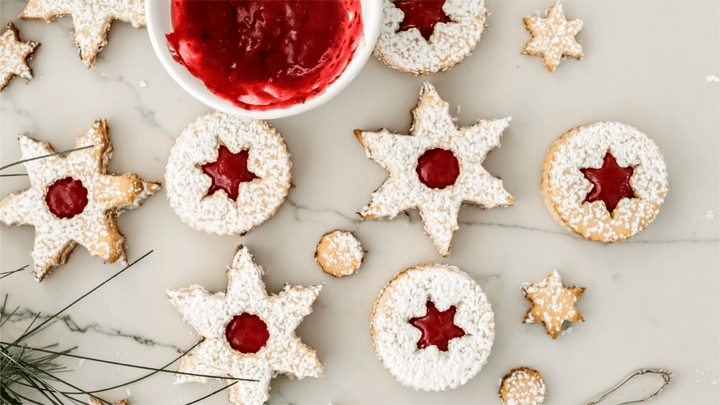 Recipes
Festive Linzer Cookies
Andrea Witthoeft
We've got something to satisfy your sweet tooth! These beautiful keto-friendly linzer cookies are sure to please, with a hint of holiday spice in every bite and a berry festive filling! To top it all up, we've included some health boosting ingredients, of course.
INGREDIENTS
1 package Bakerlita Beauty Baking Mix*
3 tbsp Organika Enhanced Collagen Boost Vanilla
1 free-run egg
½ cup grass-fed butter
½ tsp organic cinnamon
1 zest of a medium orange (or lemon)
1 jar berry jelly of your choice - or make your own! (Ingredients & instructions below)
*Can be substituted with:
1 cup almond meal
1/4 cup coconut flour
Dark chocolate chips
3/4 cup monk fruit or your natural sweetener of choice
JELLY INGREDIENTS
1 cup organic raspberries (fresh or frozen)
¼ cup organic cranberries (fresh or frozen)
1 tbsp Organika MCT Oil Powder
1 tbsp Organika Bovine Gelatin
2 tbsp monk fruit sweetener / natural sweetener of choice
½ tsp organic cinnamon
HOW TO - COOKIES
In a medium bowl, pour the Enhanced Collagen Boost Vanilla, cinnamon and a full package of Bakerlita Beauty Baking Mix, whisk together and set aside.
In a stand mixer bowl (or using a hand mixer), beat the soften grass-fed butter until light and fluffy, about 5 minutes. Beat in the egg and orange zest.
Reduce speed to low and gradually add the dry mixture in several additions. Mix until just combined, being careful not to over mix.
Divide the dough in half, shape into disks, wrap securely in plastic wrap, and refrigerate for 1 hour or until firm - not hard. (Pro tip! If pressed for time, you can put your dough in the freezer for 20 min.)
Allow the disks to warm up on the counter, making sure they stay firm.
Preheat oven to 350° and line 2 baking sheets with parchment.
Lightly flour counter top surface (you can also lay a piece of saran wrap instead).Roll out each piece of dough to 1/8-inch thickness.
Cut out using 3-inch cookie cutter and place on prepared baking sheet, spacing them 1 inch apart. Using a 1 inch cookie cutter, cut out the centers of half of the rounds, re-rolling the scraps. Place the bottoms and the tops (the ones with the holes) on separate cookie sheets!
Bake, one sheet at a time, 7-8 minutes. The tops bake faster; about 6-7 minutes. Cool slightly on the cookie sheet and then transfer to a wire rack to cool completely.
Optional: When the tops have partially cooled, dust them generously with monk fruit powdered sugar.
Spread about 1/2 tablespoon of berry jelly on each bottom cookie.
Place top cookies on bottoms and press gently to stick them together. Now they're ready for you to enjoy!
HOW TO - JELLY
Cook raspberries & cranberries in a saucepan over medium heat until they begin to break down, about 5 minutes.
Stir in sweetener. Mash it down with a fork or leave it chunky - up to you!
Cook for 5 more minutes, remove from heat and stir in the grass-fed gelatin.
Let stand until it begins to thicken, adding water if needed to thin out until desired consistency is reached.
Allow to cool to room temperature; add filling to your cookies.
Store in an airtight mason jar in the fridge for a week or two and in the freezer for up to three months.
Make sure to join in the holiday cheer and get updates on new festive recipes on our Instagram and Facebook!