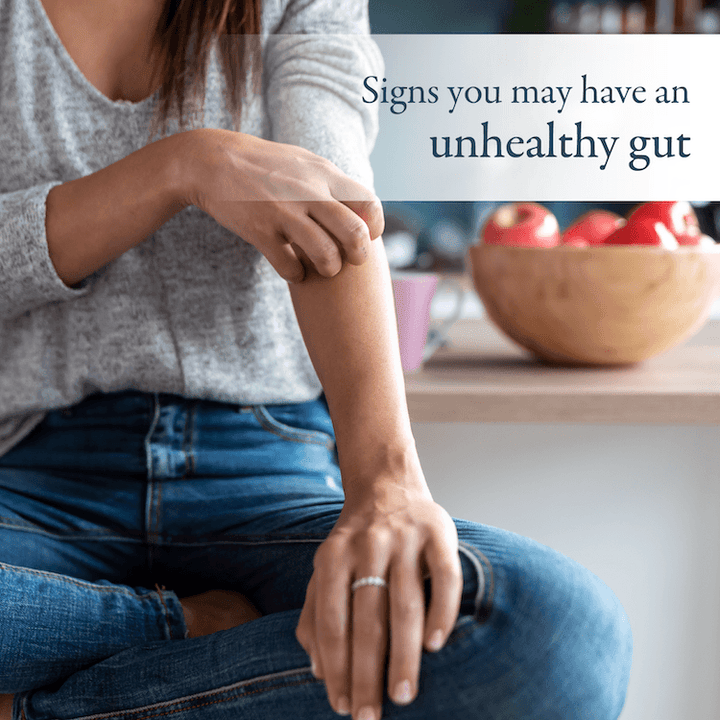 Get started on healing your gut, now.
There is a lot of talk about improving gut health, and how gut health is the key to overall health.
As true as that is, you may be wondering, "how do I even know my gut needs a health check?"
Perhaps it's time to review signs you may have an unhealthy gut.
1. Your skin health has taken a turn suddenly
If you notice your skin being irritated without a just cause, or one obvious to you, an unfavourable balance of bacteria in the gut may be the culprit.
The truth is, your skin reflects your gut health. With many skin issues, eczema, acne, psoriasis, a component of treatment includes cleaning up the gut. Lower concentrations of beneficial bacteria may impact the body's immune system and guess where that shows up?.... the skin!
Coupling collagen, which has skin boosting properties such as improving elasticity, with hyaluronic acid which lubricates tissues, including the skin, can vastly improve the hydration value in your skin. Bone broth contains both collagen and hyaluronic acid.
In addition, it's vital to take probiotics. It can set you up for clearer skin while also fixing the gut microbiome.
Tip: Try Enhanced Collagen Pure Beauty – collagen with skin boosting ingredients including hyaluronic acid.
2. Intestinal inflammation
If your intestines or stomach feel like it is a bit on fire and painful at times, it's a sign of intestinal inflammation. Which, is a sign of an unhealthy gut.
Studies suggest that inflammation in the digestive tract can happen with a change in gut microbiome, throwing it off balance, allowing for attacking of the gut's lining – leading to things like ulcers or inflammation.
Some symptoms of this include:
Gas
Bloating
Constipation
Diarrhea
Heartburn
Balancing the gut's bacteria and helping to heal the lining will make it much happier. Again, probiotics are a must!
Tip: Try Digest Relief for indigestion pain for short-term fixes. For long-term take bone broth or try Full Spectrum Collagen to cover all your bases for gut and tissue health.
3. Your bowel movements have changed
Less unpleasant to talk about, but it's important... has your stool changed?
Things such as abrupt changes to stool size, consistency of bowel movements, blood in stool, or abnormal changes, can say a lot about what is happening with your gut health.
You know what is normal to you, and if something seems "uncool with your stool" chances are a bit of a gut check may be much needed.
Tip: In addition to checking in with your naturopath or physician, supplementing with probiotics and bone broth can help.
4. Unexpected changes in your weight
Both gaining and losing weight without any intention, without changing your diet or exercise habits is a red flag for an unhealthy gut.
What it means is that your body is experiencing an inability to absorb nutrients, regulate blood sugars, store the nutrients that need to be stored... and you guessed it, all that processing starts with the gut.
Tip: Plant-based digestive enzymes can help breakdown and increase absorption for protein, carbohydrates, and fat.
5. Fighting for sleep or fatigue
If you are finding yourself having a tough time sleeping, or constantly fatigued, it can be linked to imbalanced gut bacteria or something going on in the gut.
Sometimes inflammation in the digestive tract leads to an impaired immune system, impact on mental health, both of which can play a role in changing up the circadian rhythm. Although studies have not outlined the clear cause, there is a correlation between sleep and gut health.
Tip: Try Enhanced Collagen Sleep, a blend of collagen (good for many things including gut health) fortified with natural sleep supplements Gaba and Melatonin.
If any of these five symptoms ring true for you, don't wait... get that gut check in!