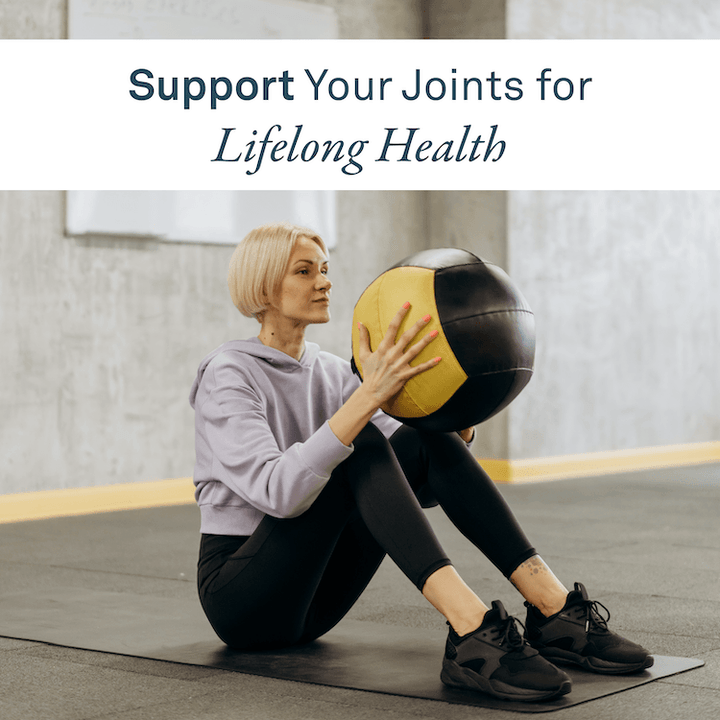 Learn about the best supplements to support your joints and combat joint pain
Joint pain can prevent you from doing things you love, an agonizing menace in your body often associated with arthritic pain.

There's natural solutions that can provide relief and support.
What is joint pain?
Joint pain is described as discomfort coming from any of your joints – but the cause may be coming from your cartilage, bones, ligaments, or muscles and tendons.
In most cases, joint pain is due to inflammation, or the cartilage around the joint being worn down. Cartilage is the material that rests between bones and prevents them from rubbing together. Over time, the cartilage breaks down (age, certain activities, etc.). This can lead to osteoarthritis and a source of joint pain that can be debilitating at times.
The best supplements to take for joint pain
The most well-known supplements to support the joints, and help with pain or inflammation appear to be:
Collagen
Glucosamine
Chondroitin
MSM
Collagen
Fish Oil – Omega 3s
Turmeric
Boswellia

All of these are naturally occurring supplements that have been used to treat, support or prevent joint pain. There is growing evidence that these supplements help a body that is either aging or active. Taking these supplements may help with prolonged activity, recovery, performance and simply increasing your quality of life.
How does collagen support your joints?
Collagen is a protein that is found in many parts of the body that gives you structure, including cartilage, joints, ligaments, and bones.
Because collagen declines (the production of it and the amount you have) as you age... your joints can start to feel it.
Collagen is necessary for joint health.
Providing your body with collagen supplements can offset the effects of wear and tear and help to rebuild that joint health, especially in high-risk groups.¹¹
Collagen also provides support for both tissue and cartilage formation, which is important in repairing and restoring, especially after movement. It also decreases stiffness in the joints, which helps with mobility; this is important for exercise and recovery and everyday life. Stronger joint stability is also contributed to strong bones, as collagen helps the bone matrix as well.
Reducing inflammation, joint pain and muscle pain
There are three other supplements that are massively known to help with joint pain, and taken by athletes, those with osteoarthritis, and anyone experience joint discomfort: Glucosamine, Chondroitin, and MSM.
Glucosamine
Research indicates that glucosamine may reduce inflammation¹, especially when used with chondroitin.² Glucosamine supplements protect your joints from damage because it is involved in the healthy development of cartilage. ³ ⁴
Chondroitin
Chondroitin sulfate is a popular supplement that people often use to help manage joint pain, specifically with osteoarthritis. It has been studied and found to help symptoms associated with joint degeneration when combined with glucosamine. ⁵ ⁶
Methylsulfonylmethane [MSM]
MSM is also used to decrease joint and muscle pain and overall improve the quality of life. It has been studied to benefit those with joint degeneration pain in ages 50+⁷ as well as found to significantly reduce inflammation in your body. Furthermore, it has been found to inhibit breakdown of cartilage, so useful in prevention before getting to that stage of life.⁸ MSM is well studied to reduce arthritis symptoms⁹ as well as stiffness and pain related to prolonged exercise,¹⁰ proven to be a helpful supplement for pain.
Combining the best supplements into one
NEW! Enhanced Collagen™ Bone & Joint is the answer for all things joint health, joint pain, for the active and anyone with osteoarthritis.
We have taken Canada's #1 Collagen Powder* and combined it with a synergistic blend of ingredients that works to prevent bone loss, joint degeneration, inflammation, and reduce joint pain.
Enhanced Collagen Bone & Joint provides:
9g Collagen
1500mg Glucosamine
800mg Chondroitin
1500mg MSM
As well as Vitamin D3 and K2 (for added bone support)
This is the ultimate joint health support and great for:
prolonged exercise recovery
osteoarthritis and joint pain
joint and cartilage protection

Are there others that I should consider adding?
There are a few other supplements that also work with joint health in specific ways.
Fish Oil/Omega-3s
Omega-3 fatty acids work specifically to combat inflammation in the body, including your joints. Your body uses it as blockers to remove joint stiffness or tender joints causing pain.

Try: Krill Oil
Turmeric
This is the aromatic and golden spice found in curry. It is a compound in the curcumin spice which contains proteins that block inflammation in the body and help with pain. Over time, it can ease joint pain and help with mobility.

Try: Turmeric+ Powder with Curcumin, Turmeric Mylk Latte, Chicken Bone Broth Powder with turmeric
Boswellia
Also referred to as "Indian frankincense", this is an extract from a naturally occurring plant and been a part of both Asian and African traditional medicine for centuries. The active ingredient helps with pain in joints. It may also slow down cartilage loss.

Try: Boswellia Curcumin
This article has been fact checked.

REFERENCES:

1 https://pubmed.ncbi.nlm.nih.gov/28586015/ Yamagishi Y, Someya A, Imai K, Nagao J, Nagaoka I. Evaluation of the anti-inflammatory actions of various functional food materials including glucosamine on synovial cells. Mol Med Rep. 2017 Aug;16(2):1353-1359.

2 https://pubmed.ncbi.nlm.nih.gov/25719429/ Navarro SL, White E, Kantor ED, Zhang Y, Rho J, Song X, Milne GL, Lampe PD, Lampe JW. Randomized trial of glucosamine and chondroitin supplementation on inflammation and oxidative stress biomarkers and plasma proteomics profiles in healthy humans. PLoS One. 2015 Feb 26;10(2):e0117534.

3 https://pubmed.ncbi.nlm.nih.gov/30940583/ Nagaoka I, Tsuruta A, Yoshimura M. Chondroprotective action of glucosamine, a chitosan monomer, on the joint health of athletes. Int J Biol Macromol. 2019 Jul 1;132:795-800.

4 https://pubmed.ncbi.nlm.nih.gov/27422331/ Correa D, Lietman SA. Articular cartilage repair: Current needs, methods and research directions. Semin Cell Dev Biol. 2017 Feb;62:67-77.

5 https://www.ncbi.nlm.nih.gov/pmc/articles/PMC5241539/ Vasiliadis HS, Tsikopoulos K. Glucosamine and chondroitin for the treatment of osteoarthritis. World J Orthop. 2017;8(1):1-11. Published 2017 Jan 18. doi:10.5312/wjo.v8.i1.1

6 https://pubmed.ncbi.nlm.nih.gov/25589511/ Hochberg MC, Martel-Pelletier J, Monfort J, Möller I, Castillo JR, Arden N, Berenbaum F, Blanco FJ, Conaghan PG, Doménech G, Henrotin Y, Pap T, Richette P, Sawitzke A, du Souich P, Pelletier JP; MOVES Investigation Group. Combined chondroitin sulfate and glucosamine for painful knee osteoarthritis: a multicentre, randomised, double-blind, non-inferiority trial versus celecoxib. Ann Rheum Dis. 2016 Jan;75(1):37-44.

7 https://www.ncbi.nlm.nih.gov/pmc/articles/PMC4502733/ Xu G, Zhou T, Gu Y, et al. Evaluation of the Effect of Mega MSM on Improving Joint Function in Populations Experiencing Joint Degeneration. Int J Biomed Sci. 2015;11(2):54-60.

8 https://pubmed.ncbi.nlm.nih.gov/23011466/ Ezaki J, Hashimoto M, Hosokawa Y, Ishimi Y. Assessment of safety and efficacy of methylsulfonylmethane on bone and knee joints in osteoarthritis animal model. J Bone Miner Metab. 2013 Jan;31(1):16-25.

9 https://pubmed.ncbi.nlm.nih.gov/21708034/ Debbi EM, Agar G, Fichman G, Ziv YB, Kardosh R, Halperin N, Elbaz A, Beer Y, Debi R. Efficacy of methylsulfonylmethane supplementation on osteoarthritis of the knee: a randomized controlled study. BMC Complement Altern Med. 2011 Jun 27;11:50.

10 https://faseb.onlinelibrary.wiley.com/doi/abs/10.1096/fasebj.27.1_supplement.1076.7 A Randomized Double Blind Placebo Controlled Evaluation of MSM for Exercise Induced Discomfort/Pain. - Kalman - 2013 - The FASEB Journal - Wiley Online Library

11 1 24-Week study on the use of collagen hydrolysate as a dietary supplement in athletes with activity-related joint pain - PubMed (nih.gov) Clark KL, Sebastianelli W, Flechsenhar KR, Aukermann DF, Meza F, Millard RL, Deitch JR, Sherbondy PS, Albert A. 24-Week study on the use of collagen hydrolysate as a dietary supplement in athletes with activity-related joint pain. Curr Med Res Opin. 2008 May;24(5):1485-96.