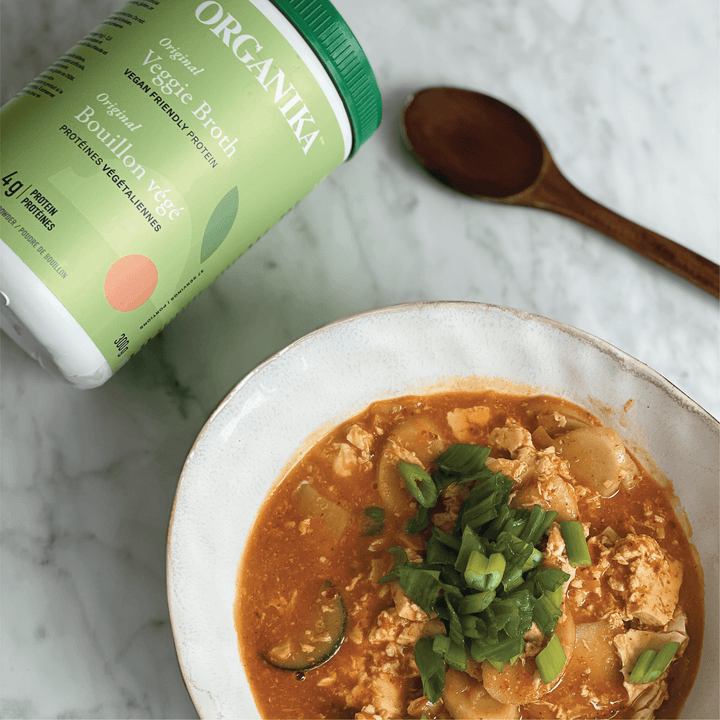 recipes
Veggie Broth Korean Tofu Stew Recipe
Grace & Paniz (@ohyoutwo)
This Soondubu Jjigae (Korean tofu stew) is packed with beautiful flavours and nutritional benefits. Mostly because traditionally, us Koreans like to make the most of our stew base by making the broth in low-medium heat filled with radish, anchovy, seaweed, onion, ginger and more. It takes at least 30 minutes to get the most benefits from these magical ingredients and to bring out the flavours. But us busy millennials don't have the time to sit around and wait for that magic to happen!
That is why I'm excited about Organika's Veggie broth. I was able to reduce the cooking time to 30 minutes in total. Organika's Veggie broth is filled with vegan-friendly sources of protein, B vitamins and organic vegetables your body craves. The adaptogenic tremella mushroom and nutritional yeast will make every sip worth your while. Oh and did I mention? A little goes a long way, all you need is two magical teaspoons.
Reasons to love this Soondubu Jjigae:
Super easy to make with the following steps.
Your friends may think you're Korean boo!
Perfect for those rainy days to cozy up with a warm bowl of soup… with a hint of spice!
Soondubu Jjigae, 순두부 찌개
Ingredients
1 Onion
Minced Garlic (3-4 cloves)
Vegetables of your choice ( ½ carrot, ½ zucchini, mushrooms, green onions )
1 Organic Tofu Package
1 Egg
½ tbsp. Sugar
2 tbsp. Soup Soy Sauce
2.5 tbsp. Chili Powder
2 tsp. Sesame Oil
2 tsp. Olive Oil
2 tsp. Organika's Veggie Broth
Serve with Noodle / rice cake/ rice of your choice (cook as per the instructions on the bag).
How-to
In a small pot, bring water to boil with half of the onion. Let it boil while you prepare step 2 & 3.
In a separate pan sautée Green Onions and sesame oil for two minutes, then add in Sugar, Soup Soy Sauce, Chili Powder and minced garlic over medium heat. Stir for 3 - 4 more minutes.
In a different pan, stir fry all your sliced vegetables in medium heat with Olive Oil 3 - 4 minutes until they turn golden brown.
Add the Veggie Broth into the small pot from step 1. Stir in until fully dissolved.
Add Rice Cakes into the small pot. Let it cook for 5 minutes. I chose rice cakes but you may choose to prepare rice or noodles.
Add the cooked step 2 & 3 into the pot then add Tofu in big chunks, they will break anyway. Let it cook for another 5 minutes. Skim off the scum.
Crack an egg in there & add freshly chopped green onions on top before serving.