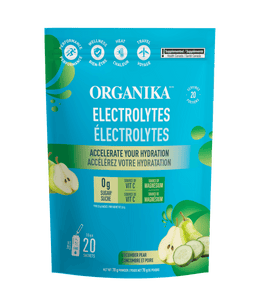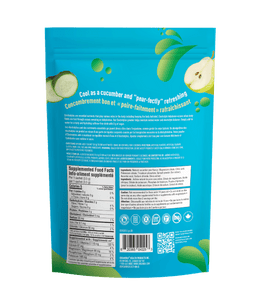 Gluten-free
non-GMO
Caffeine-free
No preservatives
No artificial colours or flavours
No artificial sweeteners
Keto Friendly
Vegan Friendly
Enhance Your Routine
0 g sugar
Source of electrolytes: magnesium, potassium and sodium
100% recommended daily intake of Vitamin C
Caffeine-free
Instant hydration to support during exercise, heat, travel or illness
Non-sugar alternative to fruit juices
Maximize your hydration faster than drinking water alone!

This is your refreshing hydration blend of essential nutrients.

Electrolytes are essential nutrients that need to be balanced in order to keep the body hydrated efficiently as well as running optimally. During excercise, travel, heat or illness, electrolytes can be lost through sweat or other water loss through the body. It's important to hydrate and replenish with these essential nutrients: potassium, sodium and magnesium.

The delicious classic lemonade flavour provides an alternative to sugary drinks. Our electrolytes are also caffeine-free and provide vitamin C for additional immune and health support.

Take it on the go!

Take the single serve sachets with you when travelling, hiking, going to the office, or keep them in your bag for hydration support anytime, anywhere. Ditch the sugary drinks - hydrate on the go, and love living healthy!
Customer Reviews
Write a Review
Ask a Question
09/09/2023
Cindy S.

Canada
I recommend this product
Electrolyte Love
What a refreshing flavour and such a great little sachet to put in my purse for magical water on the go! I highly recommend this product.
09/01/2023
Ursula P.

Canada
My favourite!
I always have a stock in my desk and car for on the go!
08/28/2023
Susan W.

Canada
I recommend this product
Organica Electrolytes
Fabulous product! So easy to use and to travel with. It's a game changer for work outs!
08/26/2023
Kristi D.

Canada
I recommend this product
Bland Flavor
I think the flavor is definitely lite to use for walks and wrk out and not sugary sweet.. But I have tasted healthy mixes that taste way better.
Hi there! Thank you for your feedback!We have other flavors like Pineapple Passion or Wild Raspberry that you might like more :) Thank you-Stephanie CX team
07/31/2023
Carolynn J.

Canada
I recommend this product
Cucumber pear
Do not like the taste at all. I do not taste cucumber and the overall taste is like dirt.
Hi there! We apologize for the inconvenience with the Cucumber Pear electrolytes. We understand that taste preferences vary, and certain flavors may not be suitable for everyone. For your next purchase, we recommend giving the Wild Raspberry or Pineapple Passion flavors a try. Hopefully, you'll find them more to your liking! Thank you-Stephanie CX team
These Products Might Be Great For You Too
Electrolytes 60 Servings - Cucumber Pear
Maximum hydration support for sport, dehydration, illness, travel, or heat
Electrolytes Sachets - Pink Lemonade
On the go essential nutrients to maximize daily hydration
Electrolytes + Enhanced Collagen™ - Wild Berry
Effervescent electrolyte drink mix