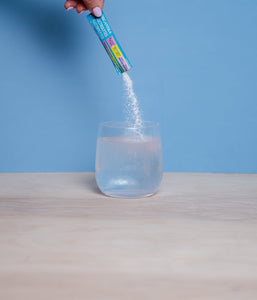 Gluten-free
non-GMO
Caffeine-free
No preservatives
No artificial colours or flavours
No artificial sweeteners
Keto Friendly
Vegan Friendly
Enhance Your Routine
0 g sugar
Source of electrolytes: magnesium, potassium and sodium
100% recommended daily intake of Vitamin C
Caffeine-free
Instant hydration to support during exercise, heat, travel or illness
Non-sugar alternative to fruit juices
Maximize your hydration faster than drinking water alone!

This is your refreshing hydration blend of essential nutrients.

Electrolytes are essential nutrients that need to be balanced in order to keep the body hydrated efficiently as well as running optimally. During excercise, travel, heat or illness, electrolytes can be lost through sweat or other water loss through the body. It's important to hydrate and replenish with these essential nutrients: potassium, sodium and magnesium.

The delicious pink lemonade flavour provides an alternative to sugary drinks. Our electrolytes are also caffeine-free and provide vitamin C for additional immune and health support.

Take it on the go!

Take the single serve sachets with you when travelling, hiking, going to the office, or keep them in your bag for hydration support anytime, anywhere. Ditch the sugary drinks - hydrate on the go, and love living healthy!
Customer Reviews
Write a Review
Ask a Question
09/11/2023
Ruth M.

Canada
Loved
I love the taste of the pink Lemonade and the Lemonade.
09/10/2023
Kathy P.

Canada
Love the packets
Good. Enjoy the packets. Didn't care too much for the flavor. Would like to try just lemon now.
09/08/2023
Katelyn G.

Canada
I like it
Yummy and motivates me to drink more water.
09/07/2023
Jennifer B.

Canada
I recommend this product
Excellent electrolytes
Love the product and how it mixes up easily. Nice and tart. Only one draw with packaging. The packets don't always tear open as they should, I've had a few tear part way and then down the seam which is messy. Will continue to buy in tub format in the future.
09/01/2023
Diane T.

Canada
I recommend this product
on the go packs
yum! great taste and makes me drink more water
These Products Might Be Great For You Too
Electrolyte 100 Servings - Wild Raspberry
Electrolyte drink mix with 100 servings
Electrolytes Sachets - Classic Lemonade
On the go essential nutrients to maximize daily hydration
Electrolytes Sachets - Wild Raspberry
On the go essential nutrients to maximize daily hydration