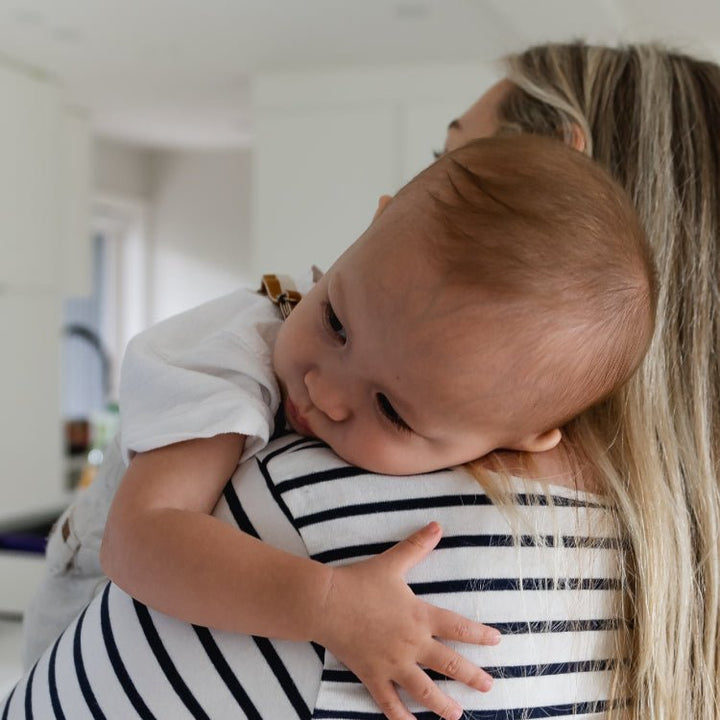 Are you a recent or soon-to-be mom and interested in supplementing with collagen? Your body goes through many changes as you enter motherhood. Learn about how your body can benefit from collagen while breastfeeding and over the course of pregnancy, and make an informed choice!
First of all, what's collagen?
Collagen is a protein made up primarily of the amino acids glycine, proline and hydroxyproline (1). It is the most abundant protein in the human body, as it is a major building block of all connective and fibrous tissue, eg: hair, skin, bone, cartilage, tendons, ligaments, blood vessels and the fibrous structure of organs (2). Research shows collagen supplementation is
beneficial for a variety of conditions
. This includes:
Joint pain
Osteoarthritis
Rheumatoid arthritis
Brittle nails
Cellulite
Skin health
It is possibly also useful in preventing or treating conditions such as sun-damaged skin, exercise-induced injury, hypertension, type II diabetes, and osteoporosis. New research is also exploring collagen's possible utility in repairing the stomach and intestinal walls in cases of digestive inflammation or "leaky gut".
How does the body use collagen while breastfeeding or pregnant?
Nutrition requirements change during pregnancy and breastfeeding due to the needs of the fetus and newborn infants. In particular, the demand for amino acids and protein significantly increases (3). Inadequate protein intake during this period can have negative impacts on the short and long-term health of mother and child. Because studies on pregnant or breastfeeding individuals are generally not permitted, there has been no direct investigation into the use of collagen while breastfeeding and during pregnancy. However, collagen is a naturally occurring substance found in animal products, made up of amino acids, which our bodies are very familiar with utilizing. Generally, collagen supplements at reasonable doses are considered to be safe and without side effects (4,5). If you have an allergy to fish or seafood, avoid marine-sourced collagen. Instead, choose products sourced from bovine, poultry or eggshell sources (6).

Here's the bottom line:
While we can't say for certain how the body utilizes collagen while breastfeeding and during pregnancy, collagen is a great source of amino acids and protein. It is also very easily absorbed, even in those with challenged digestive systems. Combined with its utility in improving and maintaining health in a number of areas, this makes regular collagen supplementation a great source for additional amino acids and protein during pregnancy and breastfeeding.
References
Silvipriya, K., Kumar, K., Bhat, A., Kumar, B., John, A., & Lakshmanan, P. (2015). Collagen: Animal sources and biomedical application. Journal of Applied Pharmaceutical Science,5(3), 123-127.
Sibilla, S., Godfrey, M., Brewer, S., Budh-Raja, A., & Genovese, L. (2015). An overview of the beneficial effects of hydrolyzed collagen as a nutraceutical on skin properties: Scientific background and clinical studies. The Open Nutraceuticals Journal,8(1), 29-42.
Elango, R., and Ball, R.O. (2016). Protein and amino acid requirements during pregnancy. Advances in Nutrition, 7(4), 839S-844S.
Choi, F. D., Sung, C. T., Juhasz, M. L., & Mesinkovsk, N. A. (2019). Oral collagen supplementation: A systematic review of dermatological applications. Journal of Drugs in Dermatology,18(1), 9-16.
Liu, X., Machado, G., Eyles, J., Ravi, V., & Hunter, D. (2018). Dietary supplements for treating osteoarthritis: A systematic review and meta-analysis. British Journal of Sports Medicine,52, 1-10.
Ruff, K. J., Winkler, A., Jackson, R. W., Devore, D. P., & Ritz, B. W. (2009). Eggshell membrane in the treatment of pain and stiffness from osteoarthritis of the knee: A randomized, multicenter, double-blind, placebo-controlled clinical study. Clinical Rheumatology,28(8), 907-914.