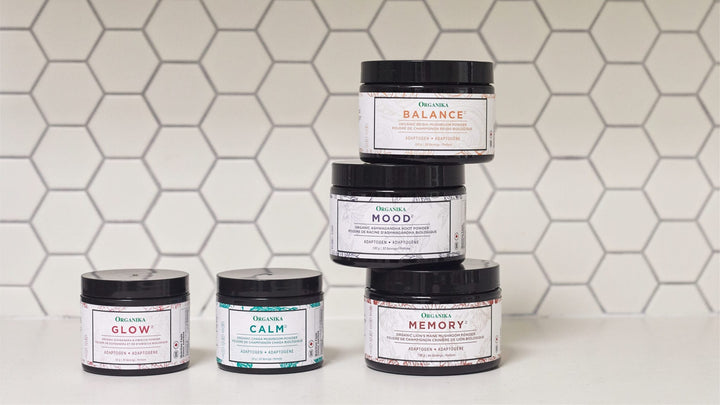 When it comes to making natural health products, sourcing is key. Organika works tirelessly to source raw materials with high quality standards from vendors that align with our values. Luckily, we didn't have to look too far for a quality source for our newly-launched adaptogen line! Meet George, mushroom farmer. His farm is located right across the border from us in Sequim, Washington. We had the pleasure of chatting with George and finding out some behind the scenes info on where our adaptogenic mushrooms come from!
A botanist specializing in mycology, George has been running his farm for 25 years. He expertly maintains the cultures and oversees the research and development of new cultivation techniques. George's enthusiasm for mushrooms dates back from his childhood, making him a truly seasoned expert.
"My interest in mushrooms started when I was taken out mushroom hunting as a kid. I became fascinated by all the different kinds and variety of shapes and colors. I started dabbling with growing mushrooms and had my first success with criminis, which were a hit with the family after being sautéed for sandwiches."
George's know-how truly shines through in the quality of his work. He constantly refines cultivating and processing techniques, and puts great care into preserving clean, organic growth conditions:
"We want to be as organic as possible, and so we have always used organic grain for growing mushrooms. To further ensure purity and quality, all of the mushroom powders we sell are produced only from mycelium and fruiting body cultivated at our certified organic facility in Washington."
Reishi mushroom
As a perk of being a grower, George enjoys an unlimited personal supply of mushrooms. He uses these in teas, soups, and smoothies. He also feels rewarded by hearing the feedback from people about how much the mushrooms are helping them and the benefits they've received.
Some mushrooms, such as reishi, chaga and lion's mane, have adaptogenic properties, meaning they can help the body better adapt and cope with life's stress.
Try an adaptogen today to experience its benefits, and keep an eye out for more adaptogenic goodness from Organika!