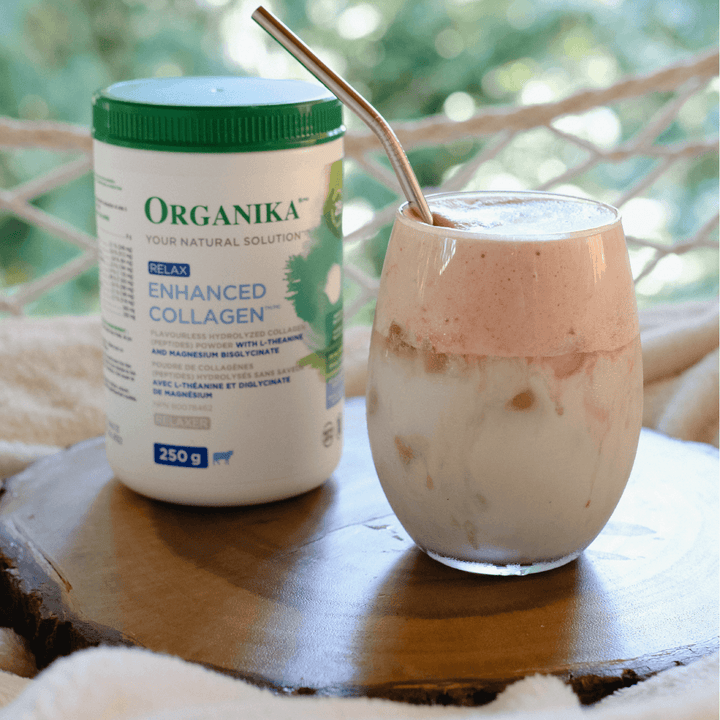 We're looking to embrace some afternoon relaxation with this whipped raspberry collagen drink. It's somewhere between a smoothie and a dalgona coffee (without the caffeine) blended with Enhanced Collagen Relax, which contains L-theanine and magnesium to promote relaxation.
With added benefits of promoting the health of our skin and joints, it's an easy add-in to your favourite drinks! Sip on this cool, frothy beverage the next time you lay out in the sun (or shade) for a little afternoon siesta. 
Raspberry Dalgona Collagen Drink
Ingredients
1/2 cup frozen raspberries, puréed
Liquid from 1 can of chickpeas (aquafaba)
1 tbsp Enhanced Collagen Relax
1 cup almond milk
How-to
Whip aquafaba liquid in a standing mixer.
Add Enhanced Collagen Relax to the mixer while blending the aquafaba.
Continue whipping until it forms stiff peaks (about 2 mins on high).
Add your puréed raspberries slowly to the mixer until combined.
Pour over ice + almond milk.
Enjoy!