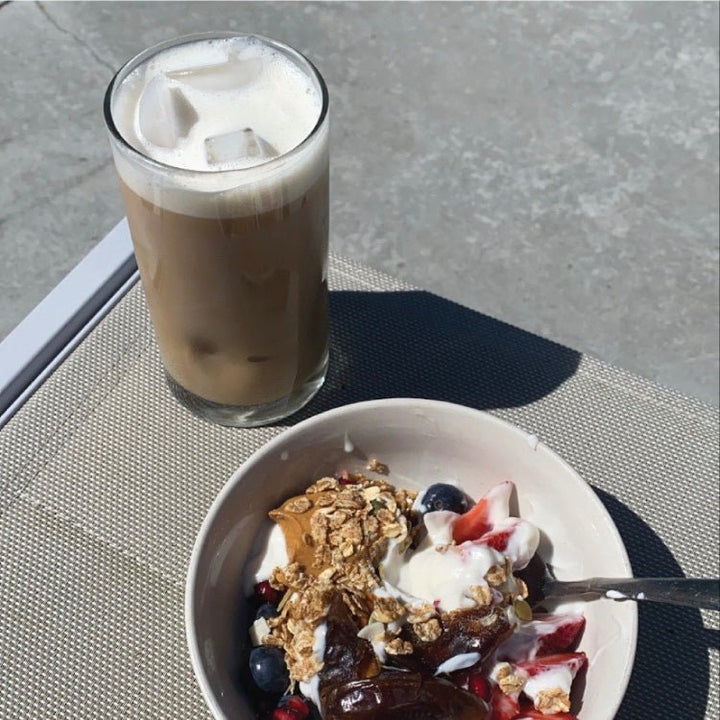 There may still be some uncertainty around the summer months right now, but a few things are for sure: sunshine and good times are in the forecast. Summer is undoubtedly my favourite season of the year, a season that brings lots of time in the sun and that constant go-go-go feeling.
It's just as important to make sure that you're taking care of yourself during the summer as it is any other time of the year, if not more. So I'm sharing some of the ways that I maintain balance in the summer months to avoid burnout and sustain a healthy and happy mindset.
A Healthy Breakfast
In the summer, I feel like my routine is a little less structured than normal. Lot's of going out to eat and lots of treats… hello ice cream season! Something I do to make sure I'm feeling my best is ensure my first meal of the day is extra healthy and full of fruits, vegetables and protein. I feel like it's easiest to maintain control over my first meal of the day, and at that time I'm not dealing with any decision fatigue either. It keeps me full longer and it helps me balance out the night outs and treats knowing I already got in lots of nutrients!
Pro tip: I also try to always keep a snack in my bag in case I get hungry, so that I don't get hangry or just end up buyinng something because I'm starving. 
Hydration
With all of the sunshine, it's so important to make sure that you are staying hydrated. Get a water bottle that you love and keep it by your side, I sometimes add fruit to encourage me to drink more. I also add a fruity tea bag sometimes to make iced tea!
A Reliable Sunscreen
Sunscreen, sunscreen, sunscreen! So important. Not only does a sunburn drain the energy out of you, but it's so unhealthy for your skin. Take some time to find a sunscreen that you love and can wear everyday. The most important spots? Face, neck and the top of your hands. Hold on to that youthful skin! 
A Wide-Brimmed Sun Hat
On the topic of skin health, a wide-brimmed hat is essential as well. These are so in style right now, but functional at the same time. Having the sun in your face is exhausting, even with a good sunscreen. So find a cute and reliable hat that you can cover up your precious face with!
Sipping on Iced Coffee
Need I say more? I love having iced coffee in the morning or as a midday pick me up. My go to recipe:
I love the Enhanced Collagen Boost because it helps keep me full, is a great way to add collagen to my diet and has 6 g of protein per serving! I'm always looking for ways to get more protein in my diet, and this is such an easy way. I love the way it tastes too.
Scheduling "Me" Time
During the summer I find I'm constantly on the go. Visiting with friends from out of town, attending community events, going on adventures.. you name it! Personally, I need my alone time but in the summer I tend to forget this. Make sure you schedule it in! My favourite "me-time" activities? Reading a book, going for a walk, taking time to stretch, or relaxing in the sun. If you feel like you need something to help you wind down, L-theanine capsules or Calm organic chaga powder can help.
Moving Your Workout Outdoors
Getting in a sweat is all about my mental health as much as it is about my physical health. One of the best things about summer is the ability to get outdoors and move your body! Find something you love to do, whether it's walking, hiking, roller blading, cycling, swimming or anything else, that fresh air and sweat is so good for the mind and body.
Pro tip: Mix Marine Collagen in your post workout shake to help aid in recovery!
I hope that you take some things from this list and that they help you live your healthiest and happiest summer. Don't forget to tag me (@mickeytwist) and Organika (@organikahealth) on social if you use any of my tips, it truly makes my day to see! 😊